Despite warning that there could be spike in the number of coronavirus infections US President Donald Trump has held his first campaign rally since the US coronavirus lockdown began, in front of a smaller than expected crowd.
President Trump had boasted earlier this week that almost a million people had requested tickets for the event at Tulsa's Bank of Oklahoma Center.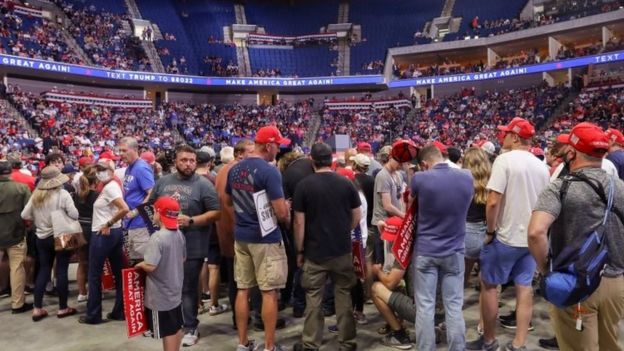 But the 19,000-seat arena was far from full and plans for him to address an outside "overflow" area were abandoned. There had been concerns about holding the rally during the pandemic.
He (Trump) had initially planned to hold the rally on Friday. But he changed the date last week after learning it fell on 19 June, known as Juneteenth, which marks the end of slavery in the US.
The choice of location is also controversial. In 1921, Tulsa was the scene of a massacre in which white mobs attacked black people and businesses, killing an estimated 300 people.
At a peaceful Juneteenth rally in Tulsa on Friday, the civil rights activist Al Sharpton said campaigners could "Make America Great" for everybody for the first time.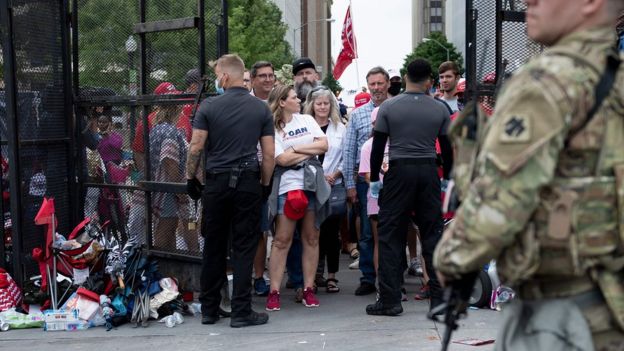 Those attending the rally had to sign a waiver protecting the Trump campaign from responsibility for any illness. Hours before the event began, officials said six staff members involved in organizing the rally had tested positive.
Mr Trump, who spoke for almost two hours on a range of topics, referred to those in the stadium as "warriors", while blaming the media and protesters for keeping supporters away. There were some volatile scenes outside the venue but no serious trouble was reported.
president Trump's re-election campaign event was one of the biggest indoor gatherings held in the US since the country's Covid-19 outbreak began, and came at a time when Oklahoma is seeing a rise in confirmed cases.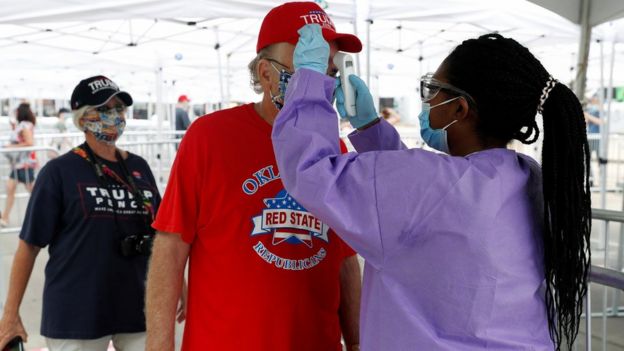 More than 2.2 million cases of Covid-19 and 119,000 associated deaths have been reported in the US, according to data from Johns Hopkins University.
In his opening remarks, Mr Trump said there had been "very bad people outside, they were doing bad things", but did not elaborate.
On the coronavirus response, Mr Trump said he had encouraged officials to slow down testing because it led to more cases being discovered. He described testing as a "double-edged sword".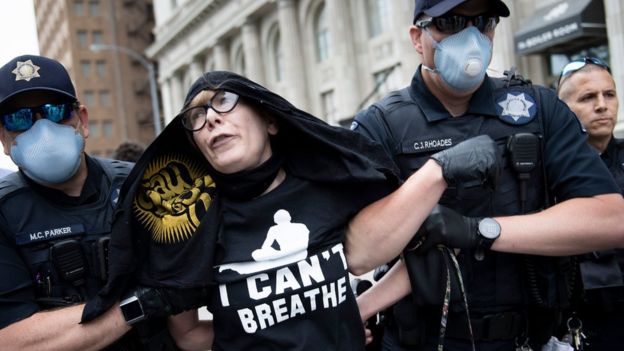 source BBC News