The Rivers State Governor, Nyesom  Wike has rejected the clemency, pleaded by the Youth Council Chairman in Rivers Chijoke Ihunwo on behalf of Mgbere Stanley who he had declared an IPOB Member and placed a #50m bounty on his head.
This is latest in the meeting of the governor with all the 23 Local Government chairmen, Community Development Committees and youths leaders at the Government House, in Port Harcourt on Monday 26th October 2020.
Recall that the Rivers State government had placed a #50m bounty on anyone who would hand in Stanley Mgbere, who the governor said is an IPOB member that caused destruction in Rivers State
The governor, in the meeting charged the 23 council chairmen, and youths in the state to fish members of the proscribed Indigenous Peoples Organisation of Biafra (IPOB) in the State. and  also warned that any council chairman that allows IPOB to hold processions and hoist its flag within their jurisdiction in Rivers State, would be sacked.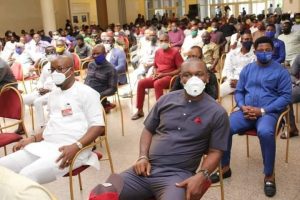 The governor, while calling for vigilance on the part of Rivers people, however, warned that IPOB members should not delude themselves because Rivers state cannot be colonized or annexed by any group, particularly, while he is still the incumbent governor of the State. describing Rivers state as the most accommodating state for all Nigerians, he said that there has never been any historical incident of different ethnic groups clashing in the State as has been witnessed in other parts of the country. According to him, Rivers state is Niger Delta and will remain in Niger Delta.
Meanwhile, Stanley Mgbere has released a video where he said that he is not a member of any terrorist group, he clarified that he is from Onne in Rivers State. He further explained that he didn't lead any violent act, that the protests was done not only by the indigenes of Onne but by the entire people of Rivers state and Nigeria. He pleaded with the state government and local government that all the allegations against him are lies