An uneasy tension hovers in the atmosphere at the APGA national Secretariat As Aspirants under the All Progressives Grand Alliance, APGA, awaits the outcome of the screening exercise.
Some of the Aspirants who spoke to newsmen after the Exercise have expressed hope of a free and fair primary election, after their screening exercise at the Party's Secretariat in Abuja.
A frontline governorship aspirant Nze Akachukwu Sullivan Nwankpo who was also  screened on Thursday' by the  committee mandated to screen all aspirants for the upcoming 2021 governorship election in Anambra state, Arrived at the APGA National secretariat Abuja and was warmly received by the entire staff and management of the party office. They wished him a successful outing in the ongoing screening exercise.
After the drill, Nze Nwankpo left the screening room all smiles, quite optimistic and confident in his performance at the interview session with the Screening committee. he said "Well, the screening is a normal process and it is just to access your eligibility as well as winnability and I think that has been done. I'm confident that I will be cleared. The committee are doing a great job." he said
We gathered that Nine aspirants who arrived APGA Secretariat for the screening exercise said they are hopeful that they will emerge successful. Some of the aspirants who spoke to newsmen including Professor Charles Soludo, Honourables Chukwuma Umeoji and Okwudili Ezenwankwo, pledged unalloyed support to the party irrespective of the outcome of its primary election, which they said must be hinged on transparency.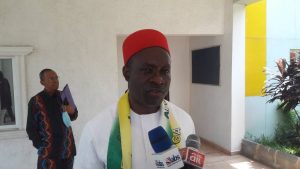 They agreed that what matters is the victory of the party at the election and not their personal desires, as they are all qualified and capable of continuing the good work already started by the Obiano-led administration.
It will however be noted that only successful aspirants from the screening exercise will participate in the party's primary election billed for twenty eight June, in Awka, the Anambra state capital.