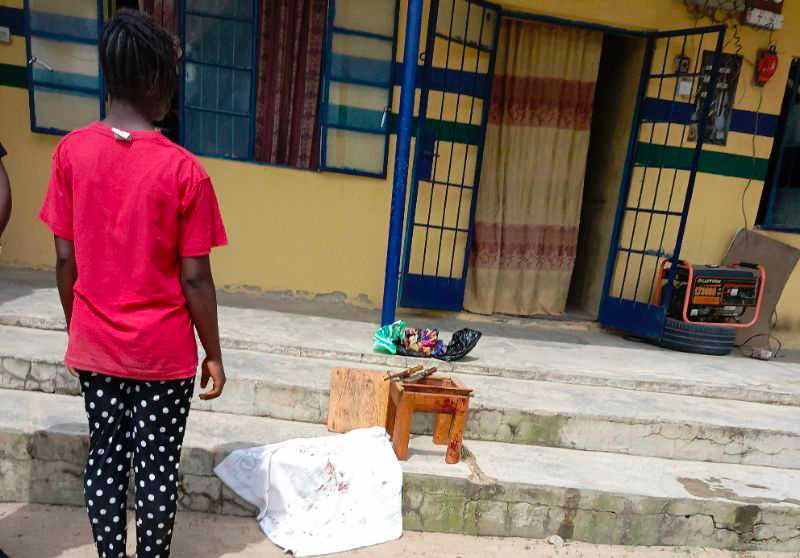 14 Years Old Sacked Househelp Confessed To Stabbing FUT Minna Lecturer To Death
A 14-year-old suspect, have confessed that she killed the lecturer of Federal University of Technology (FUT) Minna, Dr. Fumilola Adefolalu, because the diseased sacked her from work.
According to Joy Afekafe, although she went to Adefolalu's house with the intention to beat her, she was convinced by her two friends to kill her.
Dr. Adefolalu was a Lecturer with the Department of Biochemistry, School of Life Sciences at FUT, Minna before her death.
Joy confessed to the crime while being paraded at the Bosso Police Station in Minna, Niger state.
The suspect said she had gone to the deceased residence with two of her classmates whom she identified as Walex and Smart, adding that they were all SS 2 students of Day Secondary School, Gidan Kuka in Bosso.
The spokesperson of the Niger State Police Command, DSP Abiodun Wasiu, while parading Afekafe, said that two blood-stained knives, suspected to have been used to stab the deceased, were recovered from the scene.
He said that the suspect confessed to the crime confirming that she was the deceased's housemaid for three weeks, but was laid off due to her misdeeds in the house.
Abiodun said that Afekafe confessed that she narrated her ordeal to her classmates where they conspired to attack the lecturer at her residence.
He said that the suspect will be transferred to the State Criminal Investigation Bureau (SCID) for further investigation and diligent prosecution, while effort is ongoing to arrest the fleeing other suspects.
On Sunday, some friends and church members of Dr. Adefolalu, had visited her residence in Gbaiko area of Minna due to inability to get her on phone but on getting to the house, the deceased was found lying in a pool of blood with marks of injuries on her body.