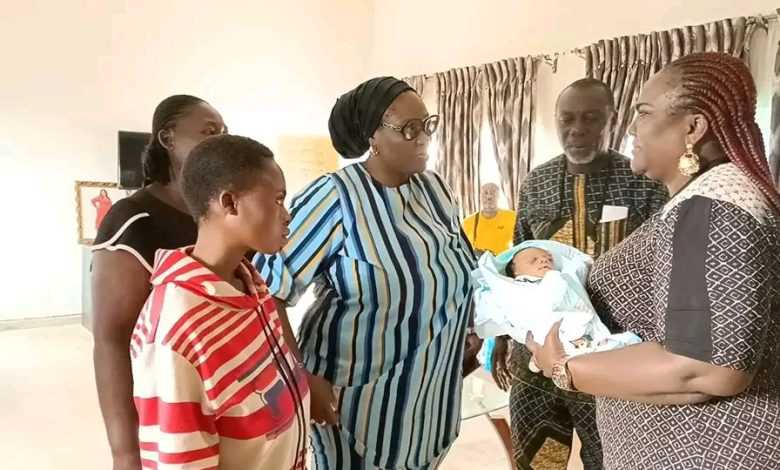 20 Years Old Mother Dumps Newborn Inside Pit Toilet In Anambra, Baby Rescued 3 Days After Alive
A newborn has been rescued from a pit toilet in Otuocha, Anambra East Local Government Area of the State three days after birth.
According to a report posted on the Facebook page of Anambra State Ministry of Women and Social Welfare, the incident happened on Sunday. The mother of the male child, Nwaedoka Chidinma, a 20-year-old girl from Izzi, Ebonyi State, was said to have deliberately carried out the act.
Esther Omesi, a farmer and friend to Chidinma, alerted relevant authorities about the incident. Omesi said she was staying at Chidinma's place at the time it happened.
According to her, Chidinma started acting suspiciously on Sunday after she had notified her (Omesi) that she was having stomach upset and then went to the pit to ease herself.
She narrated that Chidimma took time and when she came out, there was dripping of blood which made her call a nurse that inspected her and revealed that the baby was gone.
Omesi said that she thought that Chidinma had a stillbirth, which is why she encouraged her to travel home to her parents and notify them of the development.
Revealing further on how it happened, Omesi said that they heard a baby's cry on Tuesday morning and quickly used a ladder to rescue the newborn.
Reacting to the incident, the Honourable Commissioner for Women and Social Welfare, Ify Obinabo, was shocked when both the mother and child were brought to her office. Turning to Chidinma, she said: "Why would you, after you have passed through pregnancy, given birth and decided to put the baby in the toilet? Why? Since Sunday? Why are you this wicked?"
The commissioner quickly directed that the newborn should be taken to Chukwuemeka Odumegwu Ojukwu Teaching Hospital, Amaku, in Awka for treatment and later called for the arrest of the culprit.
Obinabo decried the rate at which young girls now commit crime and stated that the young mother won't go unpunished.
She further noted that the Governor of Anambra State, Prof Charles Chukwuma Soludo has zero tolerance for such inhumane and dastardly acts and assured of seeing to the end of the case.
Source: dailypost.