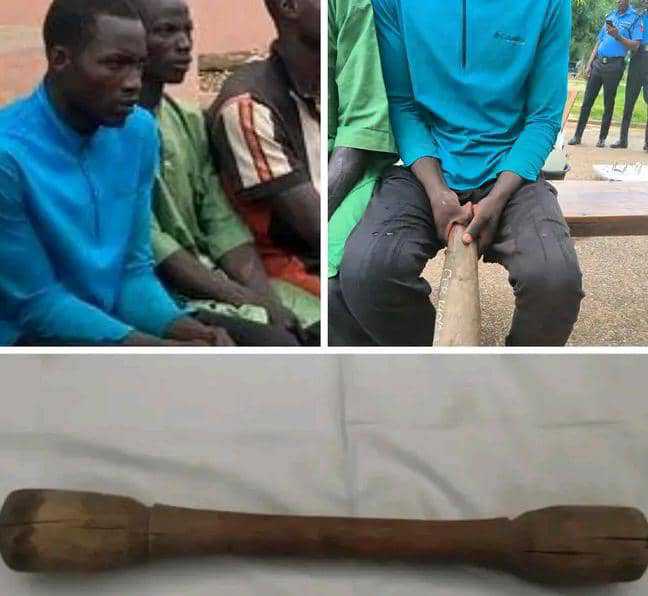 22-Year-Old Man Arrested For Killing His father With A Pestle
The Gombe State Police Command has arrested a 22-year-old man, Salisu Lawan, for allegedly killing his father, Usman, Bello, with a pestle in the Akko Local Government Area of the state.
The spokesperson of the command, ASP Mahid Mu'azu Abubakar, disclosed this in a statement on Wednesday, August 9, 2023, while parading Lawan alongside other suspects arrested for various crimes in the state.
According to the PPRO, Lawan allegedly hit his father, 65, with a pestle on the head on the allegation of witchcraft.
The spokesperson said he is concerned that cases of murder are being reported and linked to witchcraft, where people alleged seeing others in their dreams and concluded that they were responsible for their plight and subsequently leading to the k!lling of the suspected witches.
The PRO said there was another case linked to witchcraft involving an old man, who sought the assistance of a young man to help him cross a stream but was equally attacked with a plank by the young man, and his body dumped in a river.
ASP Abubakar said CP Etim and the Police frown on such acts and directed that members of the public should desist from carrying out such acts because the issue of witchcraft is not in the law.
"You cannot do what we call trial by ordeal, bringing somebody, taking him to herbalists that he must confess that he is a wizard. That is trial by ordeal and is not known in the law. In a case when a person confesses by himself that yes, I am this. The law can work on him and we know what to do with him," ASP Abubakar added. He called on traditional rulers and religious leaders to preach against trial by ordeal because it was a serious offence, which could land the person that committed it or any party involved in the case in court.