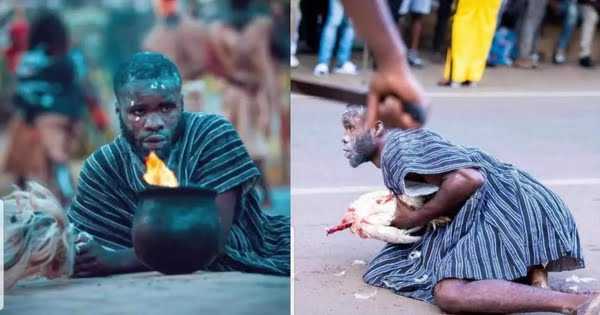 23 Year Old, 300-Level Student Burnt To Death As Spiritual Power Display Backfires
A 23-year-old level 300 student of the Akenten Appiah-Minkah University of Skills Training (AAMUST) who doubles as the Chief Priest of the school's Opoku Ware Hall has died after being burnt while performing a ritual and displaying spiritual powers.
Reports say the now-deceased, Prosper Owusu who is a member of the Dons spiritual group on the campus sustained severe burns after the raffia skirt he wore during the ritual went up in flames. He was reportedly in the company of his colleague spiritualist from the Kwame Nkrumah University of Science and Technology (KNUST) Katanga Hall when the spiritual exercise backfired.
He was later confirmed dead at the Komfo Anokye Teaching (KATH) in Kumasi A student who witnessed the incident recounted how it all unfolded.
"While he was displaying and the fire caught his smoke he refused to put it off claiming the fire had activated his fetish power. He was later overpowered after he failed to remove the fire he quickly ran into a pool of water but it was too late for him.
"We noticed he had sustained serious burns so we rushed him to Komfo Anokye Teaching Hospital. Unfortunately, he died a week after his admission," starrfm.com.gh quotes the witness as having said. Prosper Owusu's body has been deposited at the Komfo Anokye Morgue while his family has begun preparations to hold his one-week observation.
Meanwhile, the AAMUST authorities have initiated a probe into the incident while putting measures in place to safeguard the students of the school.
Pulse