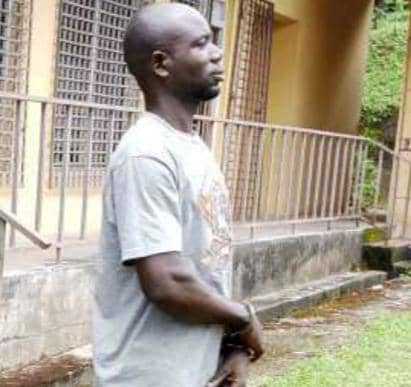 33 Years Old Man Bags Life Imprisonment For Bathing Ex- Girlfriend Who Rejected Marriage Proposal With Acid
A High Court sitting in Calabar, the Cross River State capital has sentenced a man to life imprisonment for bathing girlfriend with acid after she rejected his marriage proposal in Cross River
The Court presided over by Justice Blessing Egwu sentenced one Jide Afolabi Sunday to life imprisonment for bathing his girlfriend with acid after she refused to accept his marriage proposal. 33-year-old Sunday was charged with attempted murder on his lover, Glory Sylvester Ita, whom he poured acid on.
He was in police custody for months after being arrested for the crime that affected Glory's abdomen; an ear and breast were cut off and brutally burnt due to the hot sensation of the corrosive substance.
According to one of the testimonies, after the convict poured her the acid, he attempted to push her inside a pool to drown.
The incident was triggered by a breakup where the victim (Glory Sylvester) was invited by Jide (her boyfriend) to Reel Home Hotel along Ekong-Etta off Marian Road Calabar on October 21, 2022, which led to a heated argument and Jide provocatively throwing the acid on Glory with an attempt to kill her.
According to Glory, the relationship had only lasted for nine months before Jide sought marriage and she refused and threatened to end the relationship. Sunday got up and threw the acid on her, applying it all over her body.
Due to the hotness and the burning sensation one side of her ear and breast were cut off and all other parts of her body burnt.
Glory said screaming "he has poured me acid ooo," brought attention and alerted customers and the manager of the hotel to her rescue.
The convict initially denied the crime but later pleaded for mercy clinging he had repented.
Justice Blessing Egwu, in her judgment, convicted him to life imprisonment with compensation of N10 million for damages.
Source: CrossRiverWatch.