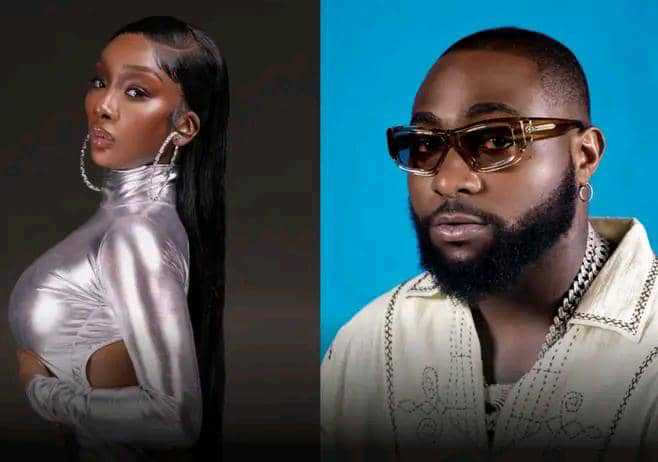 5 Baby Mamas: Netizens Drag Davido As pregnant Side Chic Accuse Him Of Neglects, Shares Private Chat Of Loving Promises
Social media has been going crazy following a new claim that David Adeleke, better known as Davido impregnated a United States businesswoman, Anita Brown, and has refused to acknowledge the pregnancy. Davido is one of the most popular musicians in Nigeria, and his personal life has always been a source of interest for fans.
Anita, who first came to public knowledge on Sunday with claims of being in a relationship and pregnant with the singer's child, resurfaced a few hours ago with receipts to prove her claims.
She has released multiple screenshots of chats between herself and Davido's cousin, Clarks Adeleke, and the award-winning singer himself, slamming claims that she was in a one-night stand situation with the Afrobeats musician.
Anita, in her social media outburst, stated that she first met the singer in 2017 while in Dubai and that they dated on and off until the pandemic when she was in a 'long' relationship.
She released screenshots of chats between her and the 'Assurance' crooner, who not only affirmed having unprotected sex with her but also chats where he asked her to handle the pregnancy like other girls in the past have to help lighten his problems.
Her receipts also show conversations between her and Clarks, who promised to advise Davido on taking responsibility for the child upon its arrival.
Anita continued addressing trolls who have called her all sorts of unprintable names, saying she never knew that the singer is married, as nothing about him or his social media platforms implied this.
He has been linked to many women over the years, and he has fathered four children with three different women.
1. Sophia Mamodu
Sophia is the mother of Davido's first child, Imade Adeleke. She is a niece of popular Nigerian journalist Dele Momodu.
Sophia and Davido had a brief relationship in 2013, and Imade was born in 2015.
2. Chioma Rowland
Chioma is Davido's longtime girlfriend and the mother of his second child, Ifeanyi Adeleke who later died. They have been together since 2015, and they got engaged in 2018 and married recently. Chioma is a chef and a fashion designer.
3. Ayotomide Labinjo
Ayotomide is the mother of Davido's third child, Aanuoluwapo Adeleke. She is a businesswoman and a model. Ayotomide claimed that she had a sexual affair with Davido in 2013, and Aanuoluwapo was born in 2014.
4. Larissa Yasmin Lorenco
Larissa is the mother of Davido's fourth child, Dawson Adeleke. She is a British model and DJ. Larissa and Davido were rumored to be dating in 2019, and Dawson was born in 2020.
In addition to these four women, there have been other women who have claimed to have had children with Davido. However, these claims have not been verified.
As of 2023, Davido has four children with three different women. He is a loving father to all of his children, and he is always there for them.
Recall, Davido tied the knot with his longtime girlfriend, Chioma Rowland, in January 2023. Their marriage came barely months after the loss of their son, Ifeanyi, who drowned in the family pool in their Banana Island home.
Social media users have since taken to different platforms to share their thoughts on this latest development.
One Gracie wrote; "Davido's marriage to Chioma is a consolation for her Child lost. Forget all those things he says during interviews, a man who loves you would never put you through this level of pain, shame and humiliation. I don't feel sorry for Chioma, She had a choice but chose to stay!"
Another person wrote; "At this point, Davido needs deliverance! Can't he keep his d*** in his pants for once? A chronic womaniser! Lmao it's how he always gets them pregnant for me you know your sperm dey always catch yet you dey pours am everywhere you enter! Ah!
"Sadly, it's difficult for women to leave a rich guy so Chioma won't leave him. She'll remain there and eat all the shit! Trust me, if Davido were poor, Chioma would have been long gone and she would never come back.
Anyway, I wish them all the best. All of them go dey alright. It is well!."
One Stlucian Princess commented saying; "The crazy thing is he doesn't take care of his children as he should.. so why would you want a child with him? Just to say you have a child with Davido? Gotta do better man. The children are the ones suffering."
As of the time of this report, Davido has remained mum over the issue.