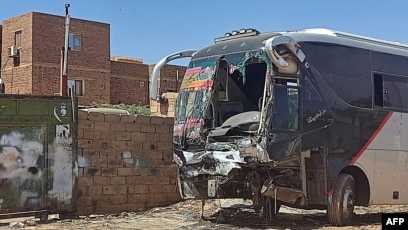 50 Persons Rescued As Bus Conveying Nigeria Students Catches Fire In Sudan
A bus conveying stranded Nigerians from Khartoum, the Sudanese capital, caught fire in the early hours of Monday.
"One of the buses conveying some 50 Nigerian students from Sudan with a tag number (Katsina 1) heading to Port Sudan as part of the second batch of FGN evacuation got damaged due to excessive heat from one of the vehicle's tyres.
"Dr Hashim Idris Na'Allah, the chairman of the Nigerian Elders' Forum in Sudan, was one of the passengers in the said bus, which contained a total of 50 students (49 males, 1 female)"The incident happened around 2:30am Sudan time.
"The driver stopped the bus near an RSF checkpoint, just before the tire exploded causing a fire to start.