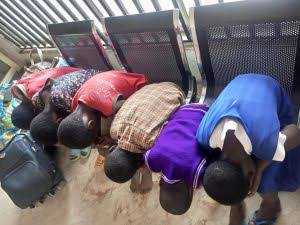 Anambra Govt Seals Orphanage Over Alleged Illegal Adoption, Selling Of Children
The Anambra State Commissioner for Women and Social Welfare, Ify Obinabo, has sealed off the Arrow of God Community Children's Home in Onitsha over allegations of illegal adoption and selling of children.
Obinabo led security operatives to seal off the structure on Wednesday, after a report and documentary by Fisayo Soyombo made the rounds on social media and local television stations, alleging that the state Ministry of Women and Social Welfare was involved in an illegal adoption of a baby girl alongside one of her registered homes in the state.
About 20 children were recovered from the orphanage operator, including a newborn baby while the founder and the employees had fled and are currently at large.
The children recovered were between the ages of one to 17 years; ten boys, nine girls, and a newborn baby.
While denying any involvement of herself and the ministry in the illegal child adoption saga, Obinabo said the founder of the orphanage home, Rev D.C Ogo, was invited to her office in Awka for an explanation, but she did not honour the invitation.
She said, "The ministry is not aware of any adoption with the Arrow of God Orphanage home even and the adoption process never went through the ministry.
"There are irregularities in the said adoption which include the absence of three signatories such as the Commissioner, the Head of child and that of the Permanent Secretary of the ministry.
"Since I assumed office, all application for court order of adoption or care goes through the designated Children, Sexual and Gender-Based Violence Magistrate court in Awka as against the Nnewi court order presented in the documentary, this is so because the fundamental goal is to preserve the best interest of the child."
She warned other children's home operators involved in illegal adoption to desist forthwith or face the consequences, stating that the state government is all out to clamp down on operators who don't follow the stipulated standardized operational practices and processes in the state.
She advised parents who intend to adopt a child in the state to be more careful as unsuspecting persons now parade themselves as ministry's consultants who help in facilitating adoption.
"The general public should note that the state Ministry of Women and Social Welfare did not engage the services of any consultant.
"We urge everyone to always report any suspicious activity found in any orphanage homes to the ministry even as we assured of making sure that the operator of the said orphanage home is brought to book in no distant time.
"The children recovered are currently in the care of the state government as necessary steps are underway to trace and reunite them with their different families," she added.
Source: Anambrapeople.com.ng