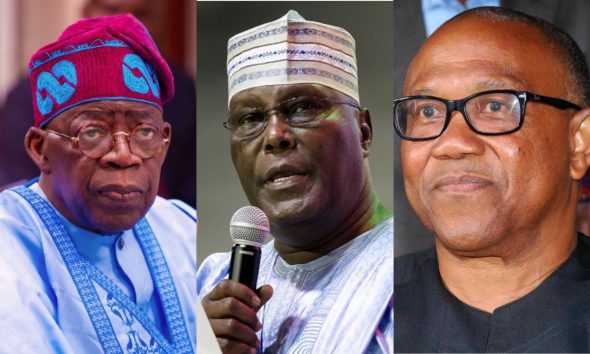 Anxiety As Supreme Court Will Today Hear Appeals Against Tinubu's Election By Atiku, Obi, APM
The Supreme Court will today (Monday) commence hearing on appeals filed by Atiku Abubakar of the Peoples Democratic Party, PDP, Mr. Peter Obi of the Labour Party and the Allied Peoples Movement, APM, seeking to unseat President Bola Tinubu of the ruling All Progressives Congress, APC. Atiku, Obi, and the APM had filed separate appeals at the apex court seeking to nullify the outcome of the February 25 presidential election after the Presidential Election Petition Tribunal upheld Tinubu's victory. The Supreme Court communicated the hearing date through notices sent to all the parties, last Thursday.
Atiku and Obi had faulted the verdict of the tribunal and subsequently filed appeals at the Supreme Court. The PDP candidate also filed for permission to tender a copy of Tinubu's academic records released by the Chicago State University, CSU, USA, which he said showed that Tinubu submitted a forged certificate to the Independent National Electoral Commission, INEC. The former vice president is also seeking to get a Washington, D.C. court to order the FBI to release documents on President Tinubu's $460,000 forfeiture case. Tinubu had on October 13, asked the Supreme Court to discountenance his Chicago State University academic records attached by Atiku Abubakar.
The president opined that the development was alien to the judicial proceedings in the country. Tinubu asserted that the CSU discovery was not part of the record or the judgment of the Presidential Election Petitions Tribunal, urging the apex court not to admit it. President Tinubu further said that Atiku had the habit of first filing a petition and afterwards hunting for evidence, noting that the former VP had exhibited that while appealing the tribunal judgment.
The president in his response to Atiku's appeal filed by his lawyers led by Wole Olanipekun, SAN, held that the claim that his credentials contained discrepancies was merely cooked up by the PDP candidate. Reports say that there are concerns whether the apex court would admit fresh evidence or not. However, a legal practitioner in Rivers State, Mathew Abakpa revealed that accepting Atiku's fresh evidence at the Supreme Court is "legally possible".
In a chat with newsmen on Sunday, the lawyer simply said, "It is legally possible for the Supreme Court to admit the fresh evidence and I believe it will be admitted but what the Supreme Court does with the fresh evidence thereafter is entirely a different thing."
DAILY POST