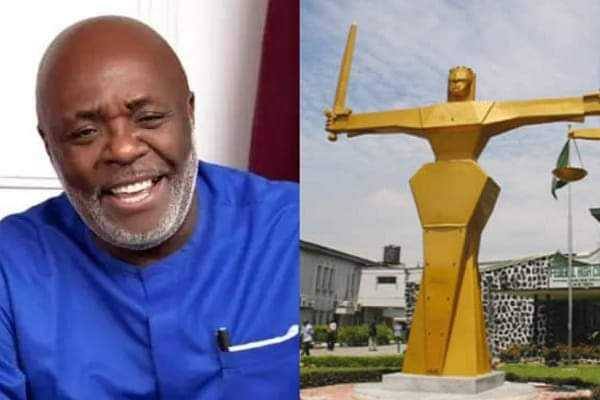 APGA Leadership Tussle: FCT Court Orders Edozie Njoku Be Remanded In Suleja Prisons
A  Federal High Court, sitting in the Capital Territory at Bwari, presided over by Justice M.A. Madugu, has directed that Edozie Njoku be remanded in Suleija Prison immediately.
The judge gave the order during a resumed hearing on Monday after listening to the arguments from counsel for the Inspector General of Police and the accused persons (Edozie Njoku and Chukwuemeka Nwoga) on a matter involving forgery of the Supreme Court judgement wherein Njoku claimed the National Chairmanship of the All Progressives Grand Alliance ( APGA)
The same court had a week ago issued a bench warrant for the arrest of Njoku in a ruling that was delivered by Justice Mohammed Madugu.
The court directed the Inspector-General of Police and other security agencies in the country to arrest the APGA chieftain for allegedly forging a judgement of the Supreme Court.
The defendant was alleged to have presented the forged judgement as genuine, with the intention of misleading the public and ridiculing the judiciary.
He was further accused of forging the letterhead paper of a retired Justice of the apex court, Mary Peter-Odili.
In his ruling, Justice Madugu, ordered that Chief Njoku and his alleged accomplice, Chukwuemeka Nwoga, should be arrested and produced in court on November 28 to face a 14-count criminal charge.
Two counts in the charge against the defendants, marked CR/12/2022, and dated October 21, read: "That you, Chief Edozie Njoku and Chukwuemeka Nwoga, on or about June 30, 2022 in Abuja and others now at large dishonesty and deliberately forged the judgment of the Supreme Court of Nigeria in suit number: SC/CV/686/2021, with the name of Chief Edozie Njoku as the 2nd respondents, knowing that he was not a party to the case, using same as a genuine judgment of the court with intent to mislead members of the public and ridiculing the judicial system of the Federal Republic of Nigeria, hereby committed an offence punishable under section 366 penal code law.
"That you Chief Edozie Njoku on or about July 18, 2022 and about 10.30am at the Force Headquarters of Nigeria Police Force, Area 11, Abuja and other places paraded and personating yourself as the National Chairman of the All Progressives Grand Alliance which you know the act to be false and criminal, thereby committing an offence which is punishable under section 179 of the penal code".