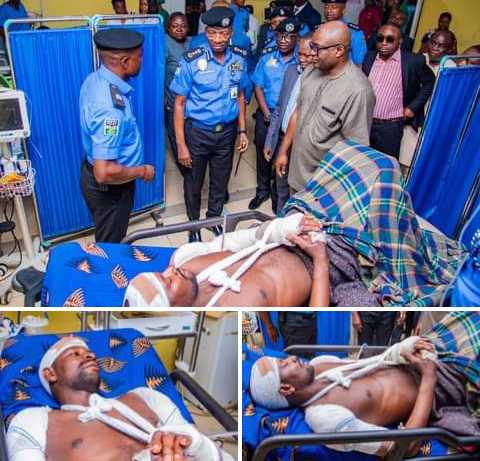 Attacks On Police Personel Will Not Be Tolerated- IGP Warns After Visits To Officer Brutally Attacked, Macheted By Hoodlums
The Inspector General of Police, Ag. IGP Kayode Adeolu Egbetokun, on Thursday September 28, 2023, visited the National Trauma Centre, National Hospital, to personally assess the condition of a Police Inspector, Omeje Matthew, who was brutally attacked and macheted by armed hoodlums at his residence in Kabusa, Abuja.
The Force Public Relations Officer, ACP Olumuyiwa Adejobi, who disclosed this in a statement said the IGP warns in the strongest terms that such attacks on police personnel will not be tolerated.
"The IGP emphasized that the attack on a Police Officer in the line of duty or off-duty is an attack on the entire law enforcement community and the peace and security of our society," the statement read.
The IGP, who frowns at attacking police personnel, warns in the strongest terms that such attacks will not be tolerated, and the perpetrators will face the full force of the law.
The IGP has directed the FCT Commissioner of Police to conduct a thorough investigation into the incident to ensure that the perpetrators are swiftly apprehended and brought to justice. The IGP also seizes the opportunity to charge other Commissioners of Police and Tactical Commanders to ensure proper closure of all pending investigations into attacks on police officers and men within their respective jurisdictions
The Inspector General of Police while extending his heartfelt wishes for the speedy recovery of the assaulted Police Inspector and others who are in the same situation, and assuring them and their families of the full support and assistance of the Nigeria Police Force, calls on the public to cooperate with the Police in providing information that can aid in the swift resolution of this case.