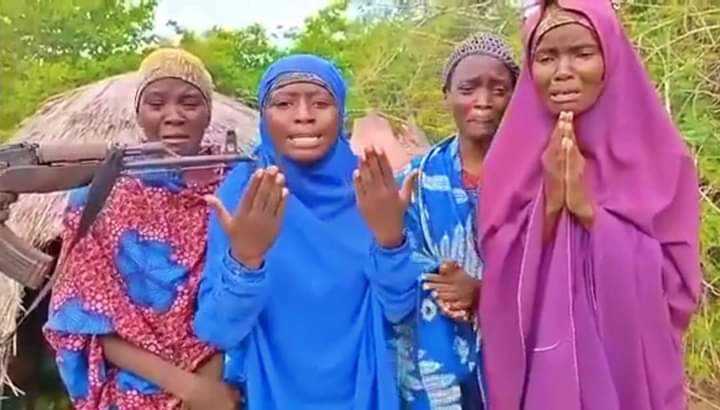 Bandits Threatens To Marry Off Female Students Kidnapped 6 Months Ago From Zamfara School
The female students of Zamfara College of Art and Science abducted over 174 days ago, have pleaded with authorities to rescue them. The students in a viral video tweeted by
Makama Zagazola, a counter-insurgency expert and security analyst in the Lake Chad region, pleaded with the Zamfara State Governor Dauda Lawal to rescue them and save them from being married off by their abductors.
This comes as Governor Lawal has vowed not dialogue with terrorists.
The Secretary to the State Government (SSG), Abubakar Nakwada, disclosed this while addressing journalists in Gusau, the state capital last Tuesday.
He said, "The current administration has no intention of engaging any leader of bandits or their agent in any discussion, whatsoever, in the name of a peace deal that has never worked before."
As gathered, the students were kidnapped earlier this year and the terror group demanded a ransom of N50 million to free them.
In the video tweeted by Zagazola, one of the students, while pleading and crying at gunpoint, said they had been in captivity since the administration of former Governor Bello Matawalle, who failed to rescue them till he left office on May 29, 2023.
"For God's sake, our mothers, we are in big trouble. We have been here since the administration of the former government," she said tearfully. "We have spent 174 days inside the forest; that is almost six months.
"For the sake of God, our mothers, we have no one apart from you. Come and rescue us. The former governor could not rescue us. We are begging the new government of Dauda Lawal to help us.
"I am an orphan, my father is dead, please help us for God's sake. My mother has no resources, please help us. These guys have vowed to marry us off within a week."
The other three girls also lamented their frustration and begged the government to come to their aid.