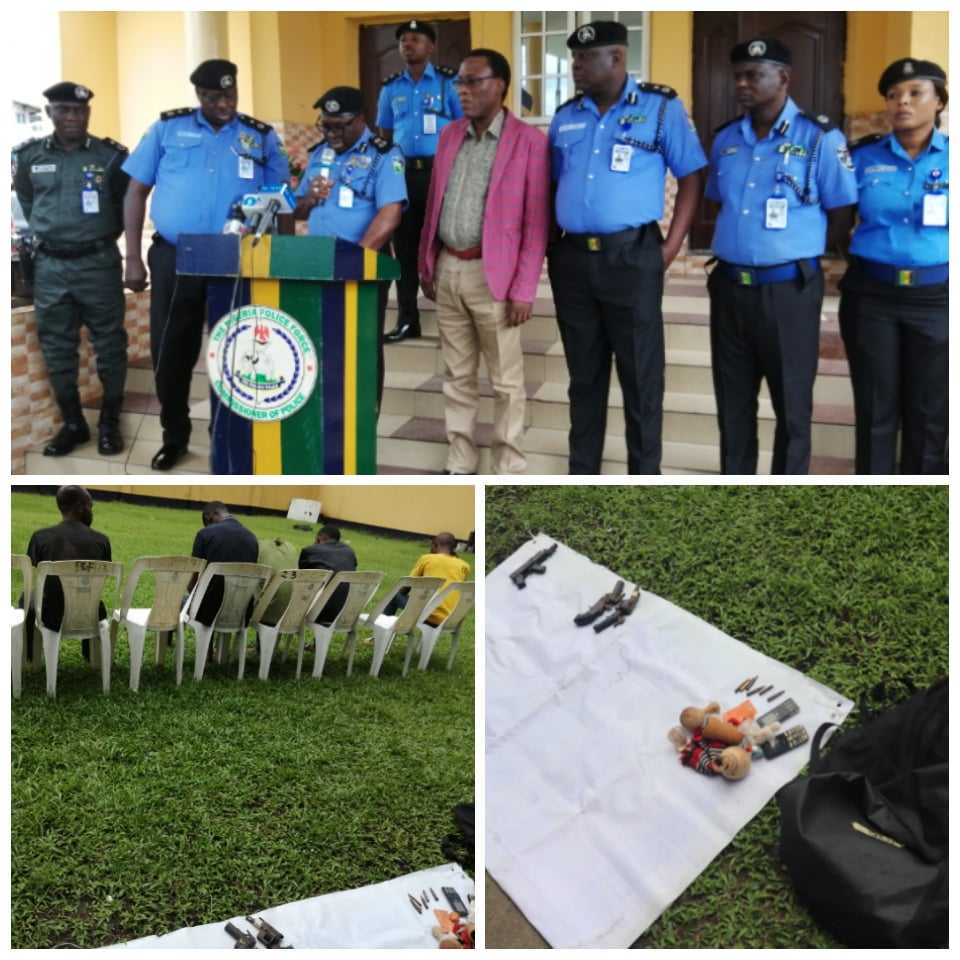 Bayelsa Kidnap Kingpin Gunned Down In Choba For Demanding More Ransom From Victims Family, Others
The Rivers state police command has provided details of latest achievements in crime fighting and policing the state as follows:
According to the commissioner of police CP Emeka Nwonyi who briefed Newsmen at the command headquarters said updates on several recent developments in our ongoing efforts to combat crime in Rivers State.
1. Arrest of a Notorious Suspect: On Friday, August 25, 2023, at approximately 8:45pm, police operatives received a distress call from the Police Control Room, Port Harcourt, regarding an abduction incident in Okpulor Community, Obio-Akpor Local Government Area. Our Hawk Team swiftly responded and arrested one member and the driver of a notorious gang, identified as Ikechi James, aged 29 years. We also recovered the gang's operational vehicle, a gold Toyota Camry Saloon Car with registration number Lagos FKJ 195 GV. Additionally, one round of 7.62mm live ammunition, four rounds of 5.56mm live ammunition, one expended round of 5.56mm ammunition, and assorted charms. Investigation on going in a view to rescue the victim, apprehending the remaining gang members, and recovering their operational weapons.
2. Kidnapping/Arrest of Suspects: On Monday, August 21, 2023, at about 5:00pm, following a discreet investigation into the kidnap of an 11-year-old child from Okuru-ama, Abuloma, Port Harcourt, our operatives arrested the principal suspect, Ben Marvelous Geoffrey, aged 30 years, in Oron, Akwa-Ibom State. Another gang member, Israel Ikereminror, 'm' aged 29 years, was arrested in Rumuolumeni, Port Harcourt. Both suspects, natives of Andoni Local Government Area, Rivers State, have confessed to the crime. Efforts are ongoing to apprehend the remaining gang members and recover their operational weapons.
3. Arrest of a Suspected Armed Robber: On Tuesday, August 22, 2023, at about 20:10 hours, during a routine stop and search along Okuru Link-Road by Royal Avenue Estate in Abuloma, Port Harcourt, Police operatives intercepted a tricycle (keke) with registration number EHZ 254 QJ. The driver, Uduak Patrick, aged 31 years, was found in possession of one locally made pistol and one live cartridge. The suspect and exhibits are in Police custody. Investigation is underway to identify and apprehend other members of the gang.
4. Death of Kidnap Kingpin: Police operatives of the command attached to the C4i Intelligence Unit, on Monday, 28/08/2023 at about 1700hrs while acting on credible intelligence, around Choba axis arrested One Promise Ebi 'm', aged 38yrs of Lobia Community in Southern Ijaw Local Government Area of Bayelsa State, who led the kidnap of One victim name withheld 'm', on 5th of August 2023, around Uniport, Choba axis, and was later released. The same kidnappers called the victim's line and collected another N2, 000,000.00. On Monday, 28/08/2023 at about 1830hrs, same kidnappers called the released victim to bring N3, 000,000.00 to the Choba area of Rivers State, where one of them met his waterloo.
He was later rushed to the University of Port Harcourt Teaching Hospital for treatment but later died. The victim's SIM card was recovered from him, while efforts to get other suspects are ongoing.
5. Arrest of Armed Robbery Suspect: Operative of the command on August 27th, 2023 arrested one Uche Chinedu at the trailer park, Onne while robbing drivers along the road in company of two other members of his gang. One locally made gun was recovered while investigation is on to arrest other members of his gang.
6. Arrest of Armed Robbery Suspect: In the early hours of Sunday, August 27, 2023, at approximately 01:00am, Police/Vigilant operatives in Elelenwo, Port Harcourt, apprehended a suspect, one Believe Okeranu 'm' aged 22yrs, at Odani Elelenwo.
During the course of the robbery, the victim raised an alarm, prompting nearby citizens to contact the Elelenwo Division emergency hotline. Responding swiftly, officers from the division arrived at the scene and successfully arrested the suspect. In his possession, they recovered a locally crafted pistol and the sum of NGN 70,000, which he had taken from the victim during the attempted robbery.
7. Unlawful Possession of Firearm: On Monday August 28th 2023, Operatives of Elelewon division arrested two male suspects namely Hamza Surage 'm' aged 28yrs and Ismaila Abubakar 'm' aged 43yrs along Hausa Quarters, Adnigreen City Elelewon in Obio/Akpor Local Government Area, with a brandished locally crafted pistol. Investigation ongoing.
8. A Case of Kidnapping: Operatives of the Command received a report from the victim's wife that her husband was returning home from his shop at Mbiama on Wednesday, 16th August, 2023 at about 2350hrs when unknown armed men were already awaiting him by his gate entrance, and whisked him away to an unknown destination. The crime scene was visited and the DPO Akinima swung into action through intelligent policing, on 23rd August, 2023, one Simeon Andrew 'm' aged 40yrs was arrested and he confessed to the crime.
Investigation on top gear to arrest other of his gang members.
9. Arrest of A Notorious Cultist/Suspected Kidnapper: Operatives of the Command on Tuesday August 29th, 2023 at about 8:00am acting on a tip-off that one Godspower Salete 'M,' a.k.a. "Sabbath/Jamanto," a notorious cultist/kidnapper who has been terrorizing Rumuodogo axis of Emohua Local Government Area over the years and has been on the Police watch list, was sited at Rumuodogo 1 community, the Command strike force team mobilized to the community with an unmarked vehicle. The suspect, upon sighting the vehicle, took to his heels, but after a hot chase, he was arrested.
Information has it that the said cultist/kidnapper, in company with one Amegbule Nkwor Vincent, a.k.a. Vampire," on Tuesday, 22/07/2023 armed themselves with an AK 47 rifle with six magazines and shot dead Inspr. Ogno Alite 'm', in his house in their community. The murder case is still under investigation.
The suspect is currently undergoing interrogation while efforts have been intensified to recover the AK-47 rifle from him.
10. Arrest of Murder/Cultist Suspect: Operatives of Kpor Division on Friday 25th August, 2023, received a distress call from one Mene Joseph Kpai 'm' of Gokana, that a group of Islander Cultist, believed to be supporters of the deposed paramount ruler of Bodo Community, attacked and shot dead two persons at Trans-Niger Pipeline, Sugi Bodo where they were securing SPDC's facilities as community volunteers. The victims who were immediately rushed to Dumkil Hospital Kpor for medical treatment were confirmed dead by the Medical Doctor on duty while one suspect Baridi Peter Berebon 'm' aged 31yrs was arrested.
Investigation on going
In conclusion, I want to sincerely appeal to the residents of Rivers State to actively support our dedicated police operatives as they continue to work tirelessly to combat all forms of criminal activities within the state. Your cooperation and information are invaluable in our quest to maintain the peace and security of this great state.
Gentlemen of the press, I thank you for your unwavering support and attention.
CP. Nwonyi Polycarp Emeka, PSC, LLB, Ph.D