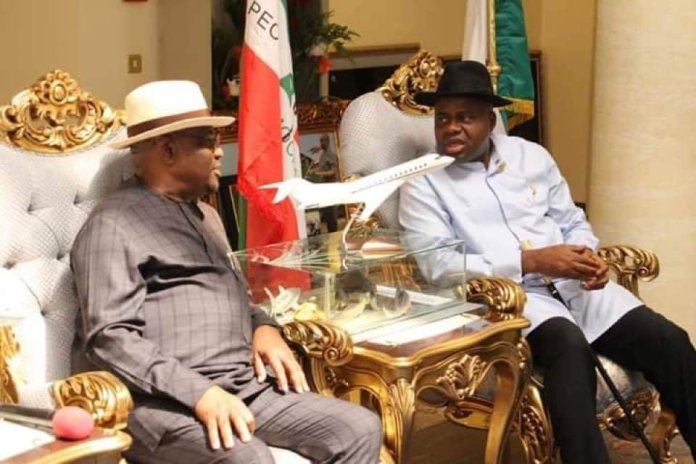 Brewing Cold War: Occupants Begs As Wike Issues Eviction Notices, Orders Demolition Of Bayelsa State Govt Properties In GRA
A cold war which might not be unconnected to the crisis rocking the Peoples Democratic Party, PDP, is brewing between Rivers and Bayelsa states as the governor of Rivers, Nyesom Wike has ordered the demolition of the property of Bayelsa Govt located in Rivers State.
Bayelsa is among many states controlled by the PDP that have opposed Wike's antics and governor, Douye Diri, is a pro-Atiku man and won the state during the February 25 election for the PDP candidate. He had, during the height of the PDP crisis, reportedly rebuked Wike's antics and the demolition order in which the state government has served the building owned by the Bayelsa State government is being perceived as an extension of their political differences. Wike, through the Permanent Secretary, Alozie Nwala, of the Ministry of Lands and Survey of the Rivers State government, ordered a service of eviction notice on April 19 on the property located in the Old GRA, Port Harcourt.
Nwala who signed the eviction notice on the property located at 5 and 9 Akassa Street, Golf Course Extension Layout, Port Harcourt, said the property is defacing and endangering the urban renewal project of the state government.
The notice on the 12-flat property read, "That in contravention of the covenants and conditions contained in the Certificate of Occupancy (C of O) issued to Bayelsa State Government in respect of Plots 34 & 35 (5 Akassa Street and Plot 37 (9 Akassa Street ) Golf Course Extension Layout, Port Harcourt, notice is hereby given by the Rivers State Government that occupants of the said property should vacate.
"Take notice that occupants of the mentioned properties are given 14 days from date of this notice to vacate buildings thereon.
"The said buildings not only constituting public nuisance, but also defacing Rivers Government's Urban Renewal Infrastructural Development Policies as relates to the Golf Course Old GRA Layout.
"Take further notice that at expiration of this notice, Rivers State Government will take possession of the properties."
But the staff of the Bayelsa State government accused Wike of bypassing appropriate channels to carry out any remedy he wishes and not embark on immediate eviction and demolition moves.
The Head, Protocol for the Bayelsa State Government, Smith Noah, who spoke to journalists, explained that, "Some people came to paste a notice that we are causing nuisance and defacing the environment. So the Rivers State Government is giving us 14 days to pack out. "We are not staying here on our own. We are Bayelsa State government workers. We were thinking that if there is anything that the Rivers State Government wants to do with us, we have an office here and the Rivers State Government knows the office," he said.
He added that, "Ordinarily they would have served the Bayelsa State government if there is any reason for us to vacate this place.
"Unfortunately, a few days ago, we heard information that they are coming to demolish this place. So, we informed our superior and they said we should wait until they have already served the Rivers State Government with a court order.
"Yesterday (Wednesday) I was assigned to do a job at the Ministry of Niger Delta Affairs. On my way my neighbour called that more than 50 vans came to vacate us.
"When I came back the officials said they were giving us till this morning (Thursday) to park out.
"I have been here for five years now. But you can see we are removing our things instead of somebody to come and destroy our property. "Bayelsa was created out of Rivers. So if Rivers has any good intention for Bayelsa, the right thing to do is settle with our Governor (Douye Diri) and not give us occupants this punishment," he said.
Also speaking, another occupant, Bridget Allison, told journalists that, "People that came here yesterday said the Rivers Government is coming to demolish this place.
"Even to pack out from this place now we need money because we don't have anywhere to go.
"I am a staff of the Bayelsa State Government and have been living here for almost 11 years now. You know things are so difficult now. Let the Bayelsa State Government come to our aid," he said.
Officials of the Rivers State government did not respond when contacted.