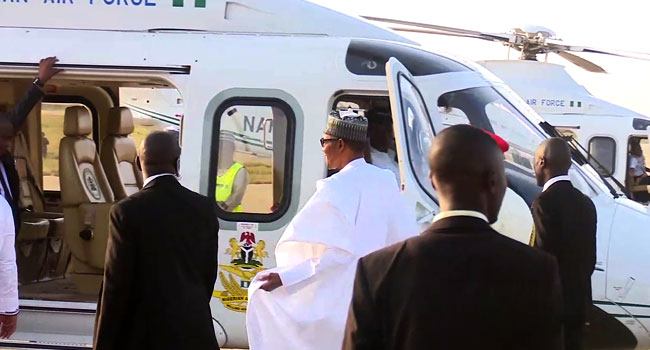 Buhari, His Uncle Mamman Daura, Nephew, Sabiu Tunde, Flee Nigeria To UK.
Ex-president Muhammadu Buhari, his uncle Mamman Daura, and nephew, Sabiu "Tunde" Yusuf, have all left Nigeria for London, UK.
SaharaReporters revealed that the trio departed the country using a private jet provided by billionaire Alhaji Aliko Dangote.
According to the platform, the decision to leave might be tied to increasing pressures from Nigeria's secret police, the Department of State Services (DSS), to arrest Sabiu, who has been implicated in various corrupt activities over the past eight years.
DSS already has Godwin Emefiele, the suspended governor of the Central Bank of Nigeria, and Abdulrasheed Bawa, the suspended chairman of the anti-corruption body Economic and Financial Crimes Commission (EFCC), under scrutiny.
Yusuf, allegedly one of the richest young men in Nigeria, is noted to have made his initial living from selling call cards in his hometown Daura, before being appointed by Buhari.
He has allegedly managed to secure diplomatic immunity from prosecution through an appointment to the National Intelligence Agency.
Insider sources that spoke with the platform indicated that Yusuf recently spent $100 million to help Kano-born oil billionaire Alhaji Auwalu Abdullahi Rano start Rano Air, an airline incorporated in 2021
Additional sources claimed Yusuf owns several properties in Abuja and has heavily invested in fuel stations across Nigeria.
He is also noted to have had multiple bank accounts housing billions of naira in Nigeria.
In June 2020, SaharaReporters highlighted that Yusuf, along with other officials, had been part of an inflated property deal for the Transmission Company of Nigeria in Abuja.
Despite no approval from the Ministry of Works and Housing, the purchase of the property was planned at an exorbitantly inflated price, allegedly providing a kickback to the involved parties.
The Ministry of Power was reportedly pushing this deal, despite opposition.