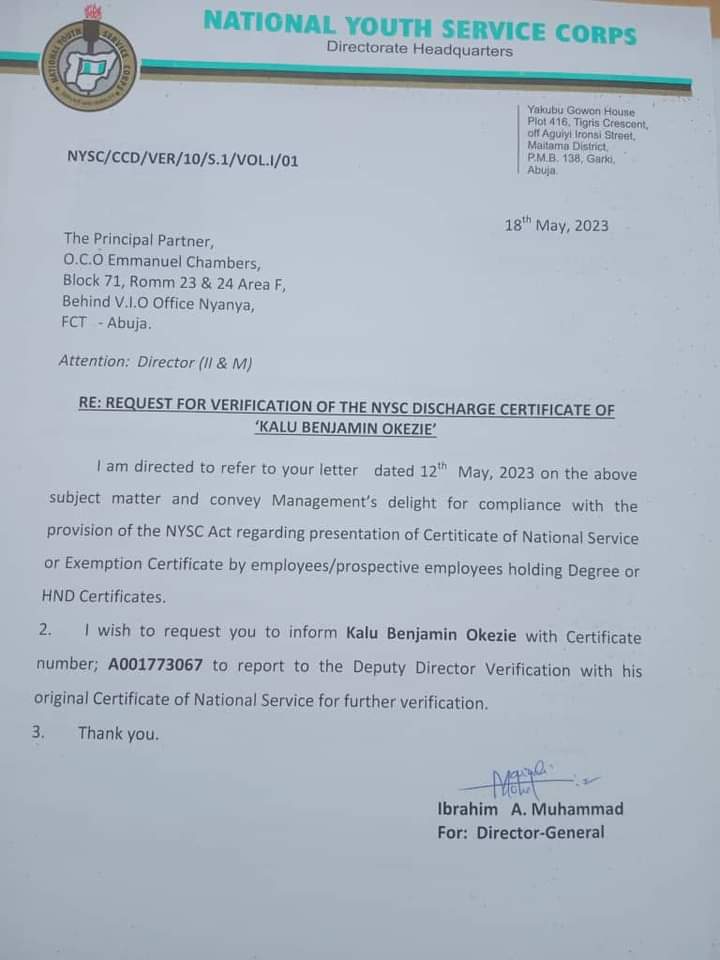 Certificate Forgery : NYSC Invites APC Anointed Deputy Speaker Candidate Benjamin Kalu
The National Youth Service Corps(NYSC) has invited Hon Benjamin Kalu, the member representing Bende Federal Constituency and anointed candidate of the All Progressive Congress(APC) for the Office of the Deputy Speaker, House of Representatives for questioning over the controversy surrounding his NYSC discharge certificate.
PUO reports that the invitation followed a letter of enquiry written to the National Youth Service Corp(NYSC) by the O.C Emmanuel Chambers, an Abuja legal firm to enquire the authenticity in the NYSC discharge certificate being paraded by a federal lawmaker, Hon. Benjamin Kalu, the agency has invited the lawmaker.
NYSC In her response letter to the legal firm advised them to inform Hon. Ben Kalu to report to their office with his original certificate of his national service for further verification.
The letter reads partly " I am directed to refer to your letter dated 12th may 2023 on the above subject matter and convey management's delight for compliance with the provision of the NYSC Act regarding presentation of certificate of National service or exemption certificate by employees/ prospective employees holding degree or HND certificates"
"I wish to request you to inform KALU BENJAMIN OKEZIE with registration number A001773067 to report to the Deputy Director Verification with his original certificate for service for further verification"
The certificates of Hon. Benjamin Kalu, member Representing Bender federal constituency of Abia state has become issue of controversy as check revealed variance of names in all his certificates which prompted a Non- governmental organization week ago to petition anti-graft agencies to investigate and bring him to questioning.