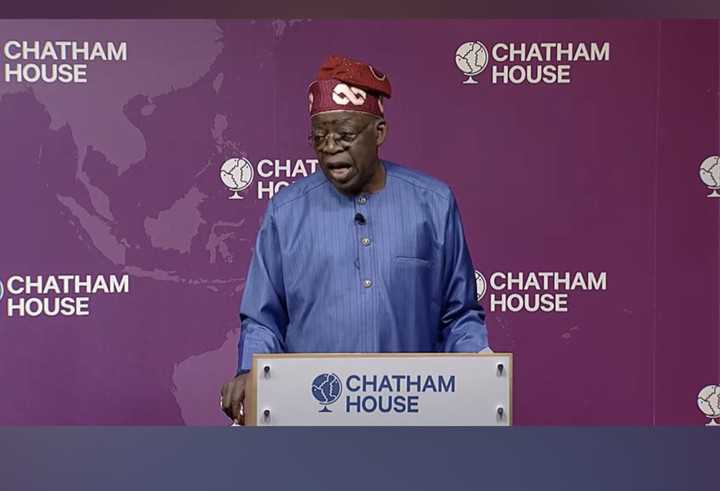 Chatham House Disaster: Nigerians Urge Tinubu To Return Home
Come back home, attempt to launder your image at Chatham will fail, Nigerians tell Tinubu The presidential candidate of the All Progressives Congress(APC), Bola Tinubu, has been urged by concerned Nigerians to come back home and address them as his attempt to launder his image at Chatham House, the United Kingdom's elite Foreign and Policy Think-tank institution will amount to nothing.
The call is coming after Tinubu who conspicuously absconded from a town hall meeting organised by Arise TV for presidential candidates on Sunday, announced his readiness to speak at Chatham institute.
Though, his resolve to speak at Chatham House was after he was reportedly denied US Visa over his drug related offences in the United States in the late 1990's.The former Lagos State governor who was accompanied on the trip to London by some state governors and party leaders, is slated to speak on security, economy and foreign policy at the Chatham institute.
Recall that the presidential campaign council (PCC) of the APC had earlier announced that Tinubu will be spending 13 days on foreign trip to the United States and other European countries.
However on getting to London,  Tinubu was Firstly embarrassed in UK with protest and counter-protest by Nigerians.
Tinubu flew to the United Kingdom some days ago to hold conversations with Nigerians at Chatham house even though he has been called out severally for avoiding debates and meetings with the citizens of the country.
On arrival at the venue of the meeting in UK, Tinubu was greeted by placards for and against him. The protest against him was led by PDP's Reno Omokri while others who are probably his supporters stood for the APC candidate. However, it was not a palatable scene to experience especially overseas.
Also, Chatham House had on its official website said that Tinubu will discuss "his vision and recently unveiled manifesto for 'renewing hope' in Nigeria including his policy proposals for economic reform and revival and how to deliver secure and inclusive job opportunities for Nigerian citizens."
It said "the event is part of a series of events and outputs examining Nigeria's 2023 elections and political developments."
some concerned Nigerians who spoke News Band. have urged Bola Tinubu to return home and do what other presidential hopefuls are doing. According to them, speaking at Chatham House has no political significance as the attempt to launder his image at the institute will amount to nothing.
"Bola Tinubu, should come back home and address us. Running down to Chatham House to discuss economy and security is completely out of the radar for me, concerned Nigerian named Boniface
"We Nigerians who will hire him are the ones to interrogate his capability and readiness to take Nigeria out of the woods. The attempt to abscond from the Arise TV debate is completely a red flag for me. It shows he is totally incompetent to takeover the leadership baton from President Buhari", another concerned Nigerian said.
Adewale who also expressed concern urged Tinubu to think twice as his attempt to launder his image at Chatham will amount to nothing.
"I will advise Ahmed Bola Tinubu to think twice. Nigerians cannot be fooled again. Travelling to UK in the name of addressing the global players at Chatham House will amount to nothing. The image laundering scheme will fall completely because the people are wiser".