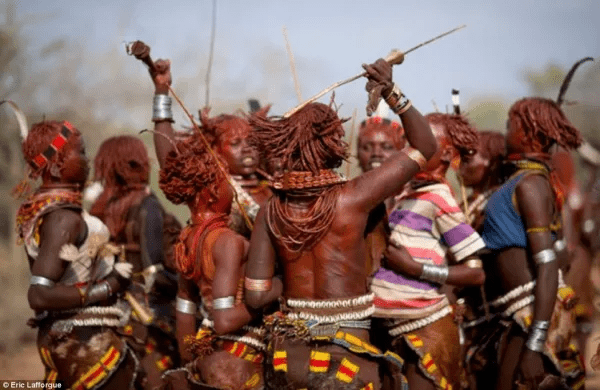 Check Out The 6 Most Wicked Tribe In Nigeria
In Nigeria, certain tribes are purported to be wicked and, as such, dangerous. However, many of those claims are misleading, as it is totally gross and inappropriate to judge an entire ethnic group based on the activities of a few individuals.
In this post, we'll take a look at some ideological narratives trending amongst Nigerians regarding how wicked certain tribes are. In other words, we'll provide a list of some tribes that people believe exhibit certain types of wicked traits.
1. Fulani Tribe
Fulani has been attributed the most wicked tribe in Nigeria due to the incessant killings by some people from this part of the country. News reports of Fulani herdsmen killings and attack on farmlands in different villages have left many people from other southern states live in constant fear of this dangerous group.
Most Fulani groups live a nomadic life-style and are mostly cattlemen. They don't stay in one place, but move from one place to the other. They are often seen with a stick and weapon (machete or dagger) taking with them their herd (cows, goats and sheep). They make money through trade and are known to have cultural discipline.
Predominantly, Islam is the major religion of this group as they are found in the northern part of the country. Fulani speaking states includes some parts of Gombe, Sokoto, Katsina, Bauchi, Kebbi, Adamawa and Yobe states. It would shock you to know that those miscreants trying to rubbish the Fulanis are just 9% out of the majority as they are also peace loving people if you go close to them.
2. Ogoni Tribe
Ogoni is another tribe that has also been guilty of killings, kidnapping and other illegal vices. In fact, a renowned personality in an online report said that the Ogonis are among the most wicked tribes in the country. He said "in the entire Ogoni land, human lives meant nothing as people can make each other mad at will, the wickedness in that part of the country was much compared to other regions." He further said: "In Khana, you can make someone mad with N500."
Our investigations about the Ogoni people and these vices attributed to them was borne out of neglect by the federal government. The Ogoni people for many years have been victims of human rights violations. In a 15-year period from 1976 to 1991 there were reportedly 2,976 oil spills of about 2.1 million barrels of oil in Ogoniland, accounting for about 40% of the total oil spills of the Royal Dutch/Shell company worldwide.
In fact, over 200 locations in Ogoniland according to the United Nations Environment Programme (UNEP), because of oil spills, oil flaring, and waste discharge, has rendered the soil of the Niger Delta impotent and no longer viable for agriculture. Furthermore, in many areas that seemed to be unaffected, groundwater was found to have high levels of hydrocarbons or were contaminated with benzene, a carcinogen, at 900 levels above WHO guidelines which is dangerous to human lives.
In 1993, the people of this group tried to protests in a bid to stop contractors from polluting their lands and waters, the Mobile Police of the Nigerian government raided the area to quell the unrest, which saw over 27 villages raided, resulting in the death of 2,000 Ogoni people and displacement of 80,000.
3. Yoruba Tribe
If you are looking for one of the most dangerous tribes in Nigeria, then look no further as the Yoruba tribe have done justice to this claim. Jungle justice is more prevalent in this region. Youths fighting one another, cult practices, stealing, kidnapping, child rape, corrupt politicians dictating the order of the day, the use of human parts for rituals or cultural practices, etc can be linked with this ethnic group.
4. Ijaw
The Ijaws are another dangerous tribe in the country worthy of mention. Occupying the Niger-Delta area blessed with crude oil, this region in Nigeria is known for kidnapping of foreigners, most especially oil workers.
It is not surprising that the Niger Delta states made our list as one of the most dangerous places to live in Nigeria due to civil unrest. Even though amnesty has been offered to these set of people by the former late president Umaru Yar'adua, militancy is still on the increase that area.
5. Igbo Tribe
While the Igbos are known to be the richest tribe in Nigeria due to the business sense know how, they are also one of the most dangerous tribes in the country today. Although, there are five Igbo speaking states in Nigeria, they are practically found in every part of the world.
You might be wondering why are Igbos among the wicked tribes in Nigeria? Well, some of them are known for cheating and other criminal related activities world-wide that has dented the image of the country. If you see the names of people released by Thailand, Malaysia, Dubai and other countries reporting fraud and drug smuggling cases, you would see that its majorly from this tribe.
Most of them are known to like money and would do anything to get it. Some go as far as doing
rituals or blood money with their family members just to get rich. Meet an average Igbo man and he will tell you that Igbos don't help themselves as they exhibit this selfish trait amongst themselves.
The popular case of Obinwanne Okeke a Nigerian entrepreneur popularly known as Invictus Obi, currently being held by the Federal Bureau of Investigations (FBI) over an $11 million advanced internet scam traced to him. You can read more about Invictus case here . He is also from this ethnic group.
The Igbos also have their own fair share of injustice meted upon them by the federal government and by other ethnic groups. Starting from the Nigeria-Biafra civil war which saw the massacre and displacement of millions of Igbos from their homes, not allowing them a say in politics, the killings of peaceful IPOB members and even labeling them "a terrorist group" by the federal government has seen the Igbo speaking people as the most hated ethnic group in the country.
6. Edo
If you are looking for the state in Nigeria with the highest number of cultists, witches, ogboni fraternity and kidnappers, look no further as Edo is the state.
Not only is the state and this tribe dangerous, some are known for their greed and wickedness. Cases of fights among families, towns and villages, clashes which ends in a bloody state has been recorded in this state.