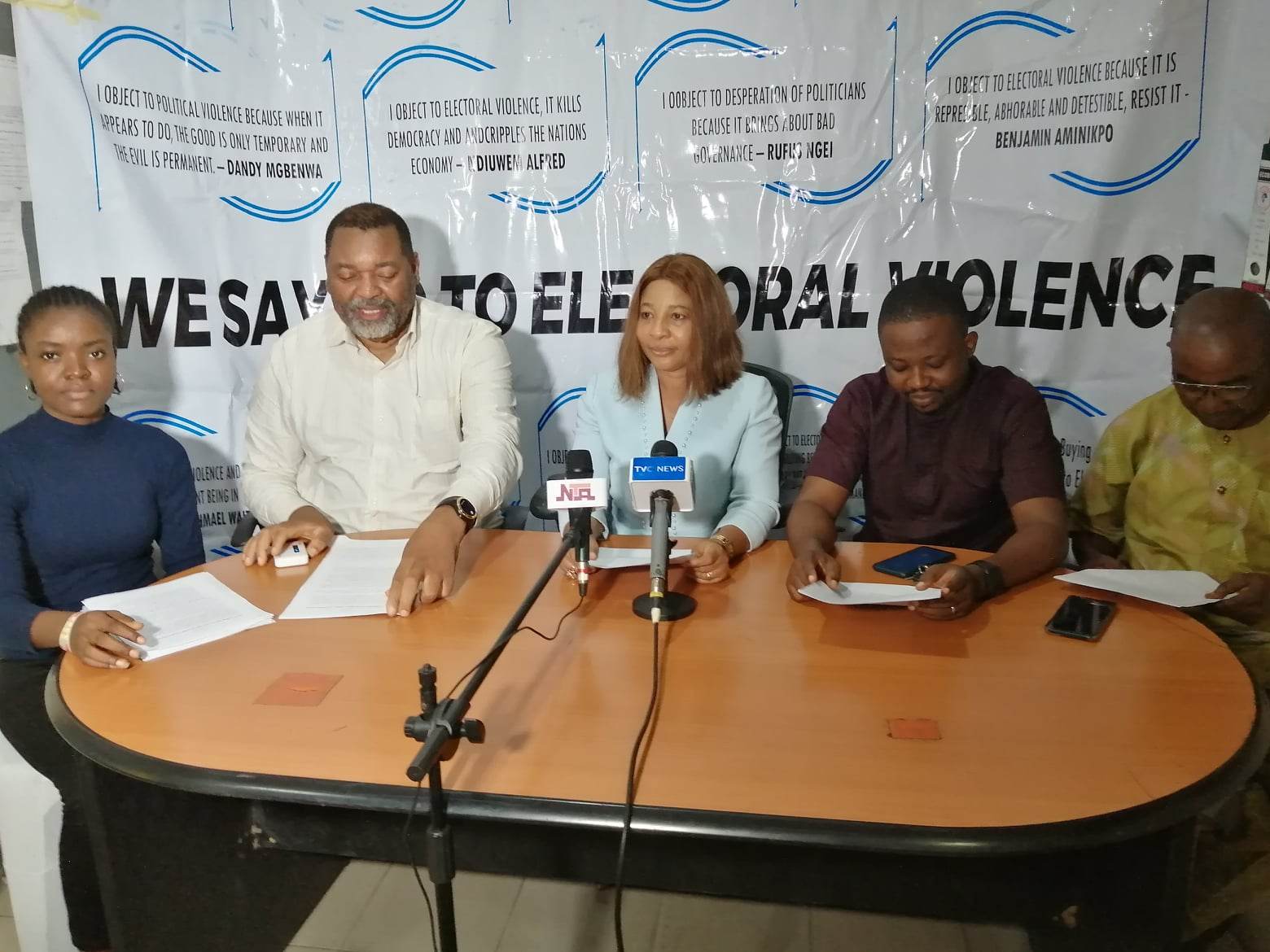 CIEPD Call On INEC To Tell Nigerians In Clear Terms, Procedure Of Transmission Of Results
CIEPD PRE GUBERNATORIAL AND STATE HOUSE OF ASSEMBLY ELECTIONS PRESS RELEASE.
The Collaborative Violence Prevention and Mitigation in Rivers State Election project is implemented by Community Initiative for Enhanced Peace and Development (CIEPD) with funding from Partnership Initiative in the Niger Delta (PIND).  The goal of the project is to sensitize the electorate especially youths and the general public on the need for peace through a constructive engagement before, during and after the Elections in 8 high risk LGA's in Rivers State namely:  Port Harcourt, Ogba/Egbema/Ndoni, Akuku-Toru, Eleme, Obio/Akpor, Tai, Asari-Toru,  and Ikwerre
The project trained and deployed 23 Community Stakeholders Network members and 149 Conflict Trackers to monitor Elections and report incidents of Electoral Violence across Rivers State with focus on the 8 high risk local government Areas.
In view of the Gubernatorial and State House of Assembly Elections in Rivers State coming up on the 18th March 2023 and as a follow up to our preliminary report from the Conduct of the Presidential Elections on February 25th 2023, we hereby call on INEC, the Security Agents in the state to work toward non-violence elections by the following recommendations:
EARLY ARRIVAL OF ELECTORAL OFFICERS AND MATERIALS: It has been observed that electoral materials and INEC staff arrived at the polling units late in some LGAs. By this act, INEC intentionally or unintentionally creates environment that is susceptible to voters' suppression, voters' intimidation, anxiety and chaotic thereby exacerbating electoral violence.  These effects are more experienced in polling units with very high number of registered voters such as Obio-Akpor Ward 6, unit 1 Woji with a voting strength of over 8,000 and also in unit 2, 3, 4 and 19 and others.
We therefore call on INEC to avoid triggering electoral violence by making sure that electoral materials including sensitive materials arrive early enough as stipulated in the Section 120 of Electoral Act that states that the polling unit should be opened at 8am. Any polling official who fails to report promptly at his or her polling unit on an election day without lawful excuse commits an offence of dereliction of duty and is liable on conviction to maximum fine of N500,000 or imprisonment for a term of 12 months or both.
HIJACK OF NEW POLLING UNITS CREATED: It was reported by our observers in Akuku Toru Ward 5 and in Tai LGA, that the new polling units that where created by INEC were hijacked by influential people in the community to their personal homes as a result of the INEC staff inability to locate the polling unit. This no doubt is a conflict trigger
It is therefore imperative that INEC properly identify and mark the new polling units created for easily identification not just by INEC Adhoc staff by all to avoid such situation that can escalate violence.
ATTEMPT TO DISENFRACHISE ELECTORATE:  Reports getting to our situation room, indicated a deliberate attempt to scare people from coming out to exercise the right to cast their votes by threatening them that if they are not voting a particular party they should stay at home from Iwofe axis of Port Harcourt, township Area Ward 7 Tourist beach, Ikwerre LGA Ward 7, Elekiahia just to mention a few. This obviously can undermine peaceful election. We are therefore calling on Security Agents to take these threats serious by providing unbiased apolitical securitization of electorate in Rivers State. We call on the military to extend the show of force parade especially areas with such security threat, in addition mount road blocks starting from Thursday evening especially around hotels that are likely to accommodate agents of violence to prevent them from causing   mayhem.
Declaration of the Result at the polling Unit: Reports getting to us from the Presidential and National Assembly election indicates that this was a major trigger to violence .  However. Section 60 of the Electoral Act states that the presiding officer should count and enter the result obtained at the polling unit before proceeding to the LGA collation centre. A presiding officer who wilfully contravenes any provision of this section commits an offence and is liable on conviction to a fine not more than N500,000 or imprisonment for a term of at least six months. We therefore call on
INEC to educate and encourage their staff   irrespective of being permanent, adhoc to be law abiding and follow the stipulated provisions of the Electoral Act.
BYPASS OF WARD COLLATION CENTRES AND RESULT UPLOAD: There have been circulation of warnings that polling Officer must upload the polling unit result before leaving the place.  We are also mindful of the discretional power that the Electoral Act bestowed on INEC Section 63 "that voting and transmission of result under the Act shall be in accordance with the procedures determine by the commission" we are therefore calling on INEC to communicate clearly to Nigerians the procedure of transmission that they have determined for the Governorship and State Houses of Assembly and abide by it.  INEC should not heat up the polity by surrounding the process of transmission of the result with ambiguity
From the reports getting to us so far there have been kidnapped of 3 candidates in Rivers State, we therefore seize this opportunity to call on the release of all kidnapped candidates , Election is not a war
We call on all stakeholders involved to ensure destruction of lives and properties are reduced to the barest minimum in Rivers state during and after March 18th 2023 elections
We say No to Electoral Violence
#NigerianLivesMatter
#RiversStateLivesMatter
#NigeriaDecided2023
God Bless the federal Republic of Nigeria
God Bless Rivers State
Signed
Community Initiative for Enhanced Peace and Development