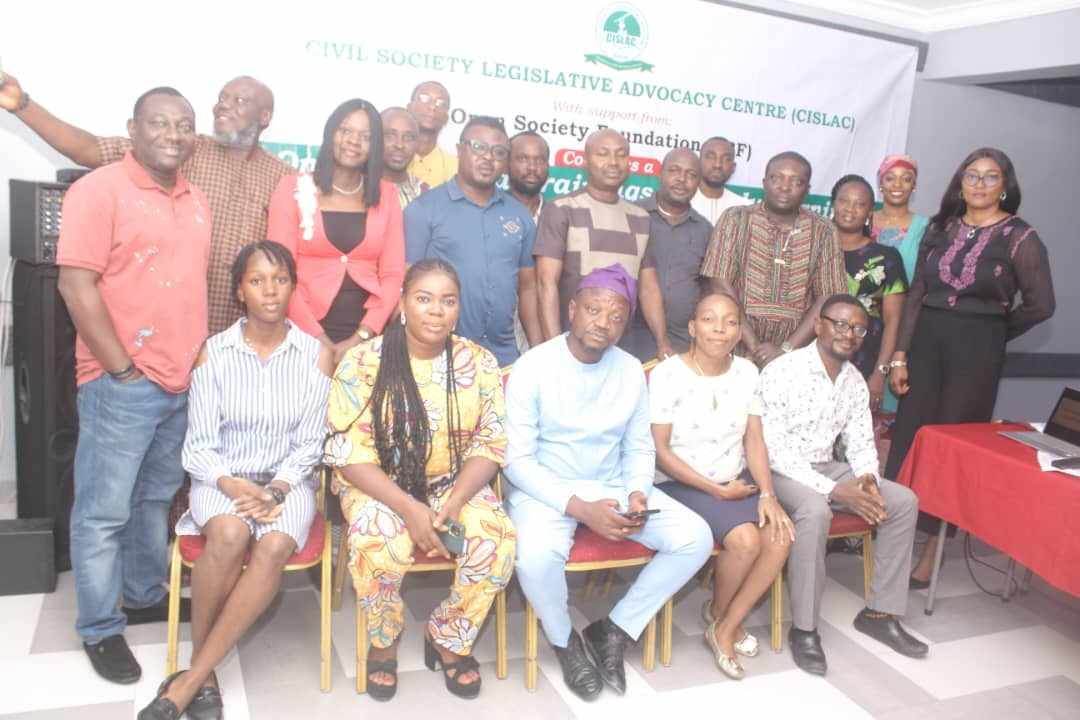 Why Journalist Must Embrace Conflict Sensitive and Objective Reportage" CISLAC Issues 8 Points Communique
The Civil Society Legislative Advocacy Centre(CISLAC) is appealing to Journalists to lists factors that are Crisis "indicators"  by Mapping out local conflict analyses tools to identify the different actors or stakeholders involved in a specific conflict and analyze the role they play. to enable them report properly
The Executive Director of CISLAC Auwal Ibrahim Musa Rafsanjani made the appeal in his opening remarks at a one day capacity building workshop  organized on Thursday, September 7,2023 for Journalists in port Harcourt on early warning and early response reporting in collaboration with Open Society Foundation .or thought as likelihood of causing outbreak of a conflict or specific escalation within an ongoing crisis and take timely action to reduce disaster risks or violent conflict in advance of hazardous events.
The guest speaker at the event Dr. Dinebari Vareba while speaking on the role of media in early warning and early response signals said in conflict situation the very first thing Journalists needs to do is to map the conflict properly, mapping the conflict properly to know what is the context of the conflict and also to know the stakeholders within the conflict.
He stated that, Haven mapped the conflict, It generates some trends and pattern that enables the Journalists to code.
Dr. Vareba explained that, when the Journalists are able to code certain pattern, it enables them to know and report properly .It also helps the Journalists to report in conflict sensitive style.
Dr.Vareba opined that reporting in conflict sensitive style help in mitigating the conflict sometimes, it helps in reducing it sometimes and sometimes, it helps in bringing the conflict to an end.
"A Journalist can make a report instead of bringing down the conflict, it will escalate it. Secondly, reporting without conflict sensitive style could bounce back to the Journalist, if he or she does not keep to standard.
"The Journalist can be the matter of report, so I advice Journalists to always keep to standard, report objectively so that they can save situations and also save their lives".
In her contribution, Bertha Ogbimi Senior Programme Officer of CISLAC said "We need to adopt proactive measures to improve our security system. Nigeria has been facing insecurity challenges over the years and time to time it evolves from one level to another level.
"Now we are beginning to see conflict entrepreneurs diversifying, so there is a need to tackle insecurity issues in Nigeria and all hands has to be on deck.
"There is a such a thing like citizen responsibility regardless of the platform we found ourselves .We must contribute our quota one way or the other to promote peace.
"If you find yourself in a platform you can use to promote peace, you must utilize that platform to promote peace.
"Journalists should endeavor to report sensitively, objectively, carry out detailed investigation before reporting. Journalists should make sure they report conflict in a way that douses violence .
"We are here to conscience the media. We know that you are aware of early warning and early response signals but we want to re-awaken your consciousness to it,  So that you deploy it in discharge of your duty ".
Our correspondent reports that the Journalists made commitment to report in such a way that will de-escalate conflict while a communique was issued at the end of the meeting.
CISLAC on 5th September 2023,trained Civil Society actors and community observers on early warning signals while on 6th September,2023 security agencies including local vigilante group were trained on early response mechanism.