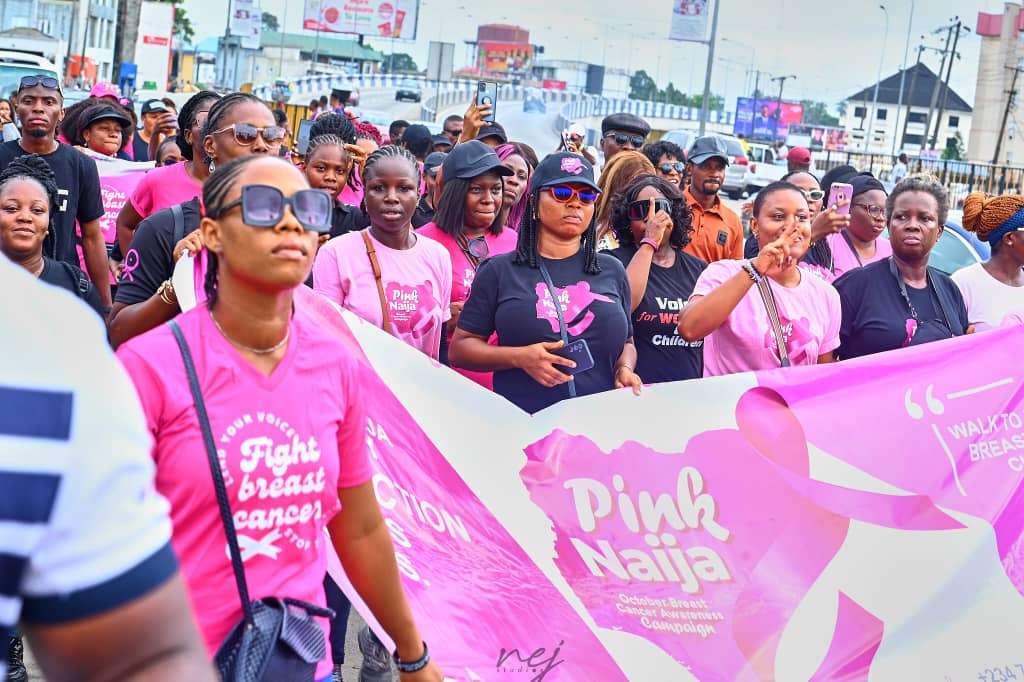 "Close The Care Gap": Rivers State Marks Breast/Cervical Cancer Awareness Rally, Screening With Pink Naija Walk
The Rivers State Government, ( The Ministry of Health), in alliance with world health organisation (WHO) and the prestigious engraced life foundation, organised the annual Breast/Cervical Cancer awareness Screening, with the theme of this year tagged as: "Close the Care gap" , the event held at the popular Captain Elechi Amadi Polytechnic (SBS) Rumuola Port Harcourt.
As a usual culture, the awareness exercise was spiced up with a Pink Naija walk, with the aim; to kick out breast cancer and to sensitize the public and mostly women; to assemble at the venue and carry out a free screening, to get informed about their current breast health status and as well have a clear understanding about breast/cervical cancer, with the knowledge that; an early detection, to find out their current status, can help for a quick commencement of medical care, to give redress and solution to women who have already contacted the disease.
After the road walk, every registered participant, converged at the venue for the screening, sensitization and a brief health talk about remedial measures and steps that can be adopted to manage the high rise of breast/ cervical cancer disease in the society and to save and preserve lives from being victims of the high rising plague of the disease.
In an interview with Journalists, The Nigeria Cancer Society and Founder of the nest of hope cancer advocacy and support community Dr Alhassan Umar, was ably represented by his delegate, Mr Dozie Akwarandu, who simplified the significance of the Cancer awareness event, he identified the modifiable and non modifiable factors that are closely related to cancer and breast cancer generally.
He revealed that; The cause of breast cancer is multifactorial. Several risk factors for breast cancer have been known nowadays. The risk factors are differentiated into non modifiable risk factors: age, sex, genetic factors (5-7%), family history of breast cancer, history of previous breast cancer and proliferative breast disease. Modifiable risk factors : menstrual and reproductive factors, radiation exposure, hormone replacement therapy, alcohol and high fat diet. Some environmental factors such as organochlorine chemicals, electromagnetic field and smoking.
He further stated that some ways that can serve as means to reduce and prevent breast cancer include: Limit alcohol. The more alcohol you drink, the greater your risk of developing breast cancer. The general recommendation — based on research on the effect of alcohol on breast cancer risk — is to limit yourself to no more than one drink a day, as even small amounts increase risk.
Maintain a healthy weight. If your weight is healthy, work to maintain that weight. If you need to lose weight, ask your doctor about healthy strategies to accomplish this. Reduce the number of calories you eat each day and slowly increase the amount of exercise.
Be physically active. Physical activity can help you maintain a healthy weight, which helps prevent breast cancer. Most healthy adults should aim for at least 150 minutes a week of moderate aerobic activity or 75 minutes of vigorous aerobic activity weekly, plus strength training at least twice a week, and many others.
In her speech, The Founder of Engraced life foundation, stage4 breast cancer survivor, Madam Ethel Olomu, gave an explicit description about the agenda and reasons why the engraced life foundation was established , she said "Engraced life foundation was established because of empathy, passion and lack of awareness, education and enlightenment in the Breast Cancer Space and that this year happens to be a commensurations of previous years, the activities have remained with the engagement in a road walk, after which, comes the screening sensitization and awareness".

She stated further that Engraced life foundation, is also tasked with the voluntary responsibility to see that women who are not financially capable to handle their health conditions and foot the bills for the breast cancer treatment and care, are empowered with skills with the initiative of an empowerment program called; B Conference, this conference is to help empower women to become proficient in various skills, to be able to cater for their hospital bills and live a better and healthy lifestyle.
The annual event has been an avenue to reach out to the world and enlighten various communities that are situated in the country, to be aware about the high risk involved with the endermic menace, ravaging both the rich and poor and to also help instigate ameliorative measures to reduce its effect in the society.
PinkNaija Walk is organized by Engraced Life Foundation, supported by the Rivers State Ministry of Health, WHO, Nigerian Cancer Society, Medical Women Association of Nigeria, FIDA amongst others
MWAN Rivers State chapter provides medical support for the Foundation and FIDA assists with logistics during rural outreaches and legal guidance.