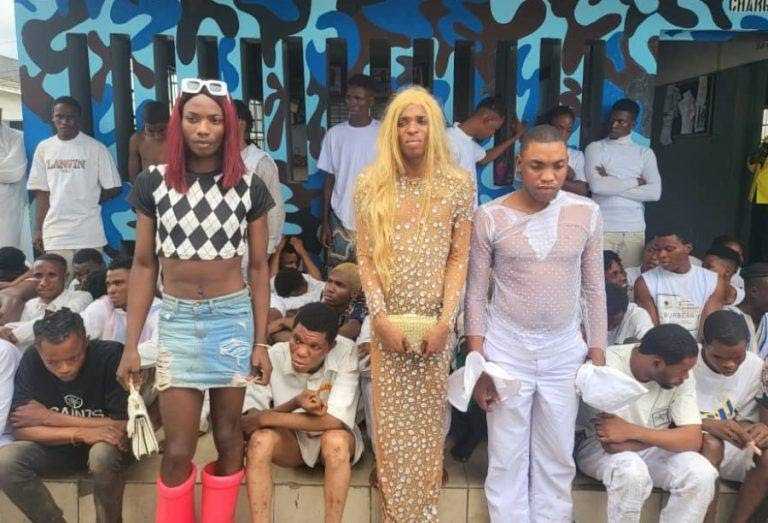 Court Grants Bail To 69 'Gay Wedding' Suspects In Delta State
Delta State High Court has released on bail 69 gay suspects who were apprehended on August 27 in Ekpan Community, Uvwie Local Government Area of Delta, for conducting a gay wedding, which is illegal in Nigeria.
In Nigeria, like in most parts of Africa, homosexuality is generally viewed as immoral on cultural and religious grounds, and the country implemented an anti-gay law in 2014 despite international condemnation. The counsel to the suspects, Mr Ochuko Ohimor, told journalists on Tuesday in Warri that they were granted bail with a sum of N500,000 and two sureties each
.
According to Ohimor, the sureties must reside within the Effurun jurisdiction.
He added that the suspects must sign a register at the end of every arraignment at the State High Court of Justice, Effurun, in Uvwie LGA, where they were arraigned on September 4.
"The suspects were granted bail at a cost of N500,000 and two sureties each. The sureties must reside within the Effurun jurisdiction," Ohimor noted.
The police prosecutor, Supol Vincent Orarumen, had opposed the bail conditions, but their lawyer argued that it was not a capital offence.
Ochuko Ohimor, a lawyer for the 69 suspects, told CNN they will be released this week once their bail conditions are met.
"They have been granted bail officially by the court under very reasonable terms," he said.
"All of them should be out this week. They need a surety who will show evidence of income and must be resident within the judicial division. The surety should be able to earn at least one million naira ($1,290) in a year," he added The suspects, aged between 16 and 40 years, were not present in court for the bail hearing, according to Ohimor, who also said the court will reconvene at a later date for a further hearing on the matter.
Their bail request was granted by the Delta State High Court.
The suspects were first paraded to the media by police before being charged to court.
A police official described the alleged gay wedding as evil, adding "we cannot copy the western world… we are Nigeria, and we must follow the culture of this country."
Ohimor told CNN he has faced "serious criticism" for defending the suspects. "I have been scandalized," he added. "Some say I'm a gay lawyer that's why I'm defending them. People look at me with disgust for standing for them."