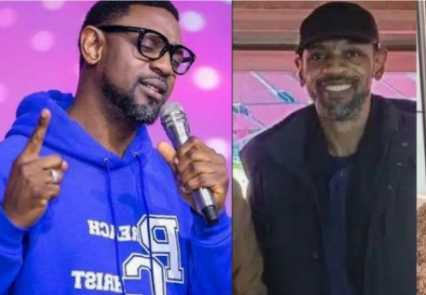 COZA Pastor Biodun Fatoyinbo Breaks Silence On Battle With Strange Sickness
Pastor Biodun Fatoyinbo of Commonwealth of Zion Assembly (COZA) has broken his silence on how he battled an undisclosed illness.
Finally addressing concerns over his health after frail and thin photos of him surfaced online last year November, Biodun Fatoyinbo revealed that he was truly ill.
Recall the photos that sparked concern were taken at Old Trafford, Manchester, England, where he was with his wife, Modele, and other church members.
There were also claims that the Cleric suffered a stroke. Further igniting concerns, the church's Instagram page where the photos were shared, had their comment section disabled.
On May 11, 2023, Biodun Fatoyinbo attended an International Minister Conference organized by David Oyedepo, the presiding bishop of the Living Faith Church Worldwide, in Ota, Ogun State, along with other pastors.
During the event, Fatoyinbo confirmed that he was sick last year and testified about his recovery, but did not disclose the nature of his illness. The COZA Pastor mentioned that while he was receiving medical treatment, his mentor, Oyedepo was praying for and speaking blessings over him. He stated:
"Last year, I was a little bit ill and against everything, the medical sciences, Papa (Oyedepo) spoke, and I am here today. And I want to give God the glory!"
Pastor Biodun also mentioned that he had been a drummer boy in the early days of Winners Chapel before receiving a call from God to start his own church.
He testified that he had been observing Oyedepo from a distance for many years, but his life took a remarkable turn when he got closer to him.