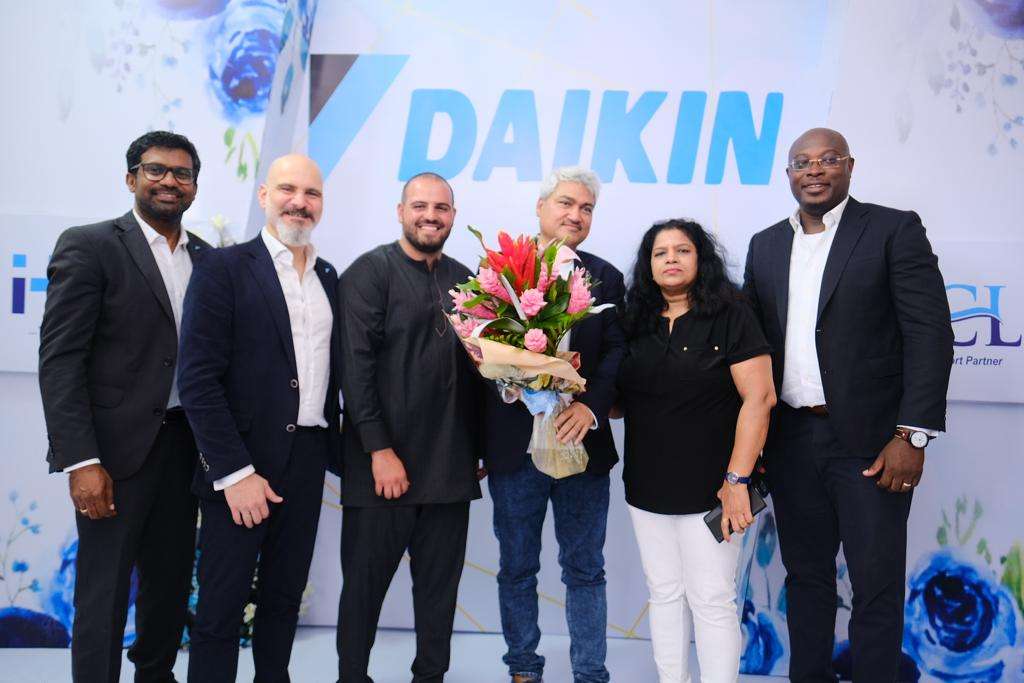 Daikin: A Leading Global Innovator Launches Its First Proshop In Partnership With IHCL Port Harcourt
Daikin, the leading global innovator and provider of advanced, high-quality air conditioning, heating, ventilation, and refrigeration (HVAC-R) products and solutions for residential, commercial, and industrial applications, has announced the launch of its first Proshop in Port Harcourt, Nigeria, in partnership with Integrated Home Concepts Limited (IHCL).
Set to open its doors on 13 September 2023, the newly launched Proshop, located at Port-Harcourt, Nigeria, will serve as a business-to-business (B2B) sales and service hub for Daikin's extensive range of air conditioning technologies: from split and multi-split to SkyAir setups and control and VRV systems tailored for various applications.
At the store, which will provide both a showcase of Daikin products and an engaging, customer-centric experience, Daikin specialists will be on hand to advise customers on the systems that best meet their needs, while the back-end support will ensure that their needs are attended to from design and sales through to installation and aftermarket services.
For Daikin, Africa represents a key market in which Nigeria particularly stands out as a growth area. With the inauguration of Port Harcourt Proshop, Daikin is taking its commitment to the country to the next level, delivering industry-leading innovation and unmatched expertise to its customers.
Commenting on the announcement, Sami Monastiriotis – Gkouneim, Africa Sales Manager at Daikin MEA, said: "With the launch of our first Proshop in Port Harcourt, our objective is to address the evolving needs of the Nigerian market by offering advanced air quality solutions that balance comfort with energy efficiency. Studies have revealed that certain air conditioning units might not be suited for Nigeria's unique weather conditions, leading to potential health risks and mishaps from outdated systems and lack of technical know-how. Having rigorously assessed Nigeria's market and its air quality challenges, we are now bringing our specialized expertise to bear to deliver top-tier air-conditioning solutions in this market. Our collaboration with IHCL follows Daikin's approach of aligning with strategic local partners to ensure customer service excellence."
Sanjay Mishra, Managing Director of IHCL said: "IHCL is partnering with Daikin to open its first Proshop showroom in Port Harcourt, offering a quality and comfortable experience for both existing and prospective customers. The partnership will provide sales and technical services at one place, ensuring a seamless customer experience and a great Daikin brand experience."
Daikin's goal is to foster a step-change in indoor air quality in the region by developing new sales and service channel partnerships that can bring our air quality and energy efficiency-enhancing systems to a wider audience, while enhancing our service and post-sale support. Through a robust localization approach, Daikin is committed to nurturing sustainability, promoting healthy living and introducing innovative products that ensure superior performance, lower operational costs and minimized environmental impact.
For more information about the new Proshop or to schedule a visit, please call +234 907 038 3212.
About Daikin
Daikin Industries is the global leader in developing and manufacturing advanced, high-quality air conditioning, heating, ventilation, and refrigeration products (HVAC-R) and solutions for residential, commercial, and industrial applications. Founded in Japan in 1924, the company strives to combine expertise and experience to create new innovative technologies by anticipating the future requirements of customers and society. Daikin has evolved over nine decades to employ 96,000 people with 110 production bases and presence in 170 countries worldwide.
Daikin Middle East & Africa promotes and provides aftermarket support for a full range of air conditioning equipment and systems in all GCC, Middle East and Africa regions.
Daikin Nigeria & West Africa is the new sales entity for Daikin MEA, based in Lagos, & responsible for all sales & aftermarket support for the products sold in Nigeria & distributed in West Africa through our channel sales partners.