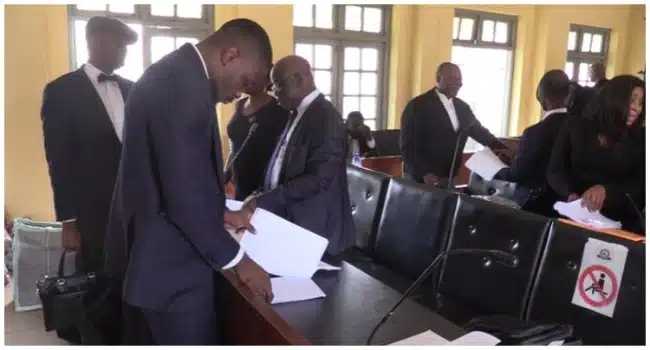 Drama As 3 PDP Witnesses Take Traditional Oath With A Cutlass, Swearing To god of Iron In Court
A witness of the Peoples Democratic Party (PDP), Kehinde Soboyejo, took a traditional oath with a cutlass at the governorship election petition tribunal in Abeokuta on Monday.
He followed the precedent set by three witnesses last week who preferred a traditional oath, swearing on the god of iron, before testifying.
Soboyejo alleged that the election that installed Governor Dapo Abiodun was tainted by irregularities.
PDP's governorship candidate in the state, Ladi Adebutu, is contesting the election victory of the All Progressives Congress (APC) and its candidate, Governor Abiodun, citing election irregularities.
Last week, the tribunal accepted undisputed documents presented by the PDP. The party's counsel then declared readiness to bring forth witnesses.
On Monday, the party called on five additional witnesses – Ibuowo Ogunbowale, Adeleye Ayomide, Adijat Ayodele, Faisal Yusuf, and Soboyejo.
These individuals testified against the victory of Abiodun and the APC in the March 18, 2023, governorship election.
Ogunbowale, from Sagamu, was accused of interfering in the election process at his polling unit but denied his involvement when cross-examined.
Ayomide, also from Sagamu, maintained there were irregularities during the election. Ayodele and Yusuf, from Ijoko, Ifo, testified in favour of the PDP.
However, their credibility was questioned when Yusuf's voter's card contradicted his claim of being a trader for the past 30 years, indicating instead that he was a civil servant.