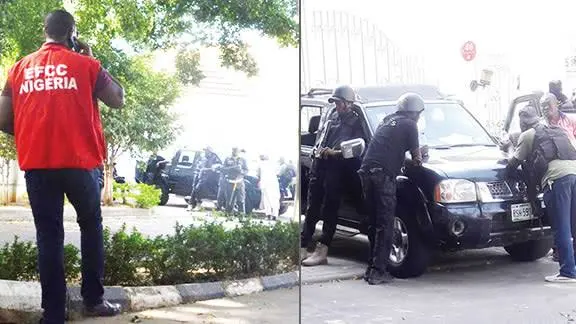 DSS Denies Fight With EFCC Over Lagos Office Ikoyi Complex
The attention of the Department of State Services (DSS) has been drawn to some media reports that it barricaded the EFCC from entering its Lagos office. It is not correct that the DSS barricaded Efcc from entering its office. No. It is not true. The Service is only occupying its own facility where it is carrying out its official and statutory responsibility.
By the way, there is no controversy over No 15A Awolowo Road as being insinuated by the Media. Did the efcc tell you it is contesting the ownership of the building? I will be surprised if it is contesting the ownership. Awolowo Road was NSO headquarters. SSS/DSS started from there. It is a common knowledge. It is a historical fact. Check it out.
There is no rivalry between the Service and the EFCC over and about anything. Please do not create any imaginary one. They are great partners working for the good of the nation. Dismiss any falsehood of a fight.
Peter Afunanya PhD fsi
Public Relations Officer
Department of State Services
National Headquarters
Abuja
30th May, 2023
Recall that earlier on Monday Morning Officials of the Department of State Services (DSS) had stormed the Lagos State office of the Economic and Financial Crimes Commission (EFCC), claiming ownership of the building located at No 15A Awolowo Road in Lagos.
Sources, who did not want their name in print told newsmen in confidence  that the DSS officials arrived in Lagos on Monday and parked on the road leading to the EFCC office.
EFCC staff was said to have gone about their work peacefully thinking that the DSS operatives were there to maintain peace for the inauguration which held on Monday. After the EFCC officials closed from work, men of the DSS were said to have moved into the premises to prevent them from gaining access when they resumed work Monday "The DSS even parked two armored personnel carrier outside the gate and took over our premises to prevent us from entering our offices," an official of the commission said.
We gathered  that before now there had been an ongoing rivalry between the two agencies with the DSS laying claim to the ownership of the building. The DSS was said to have threatened and stopped the EFCC in the recent past when the anti-graft commission tried to paint the walls of the building in the colours of the EFCC.