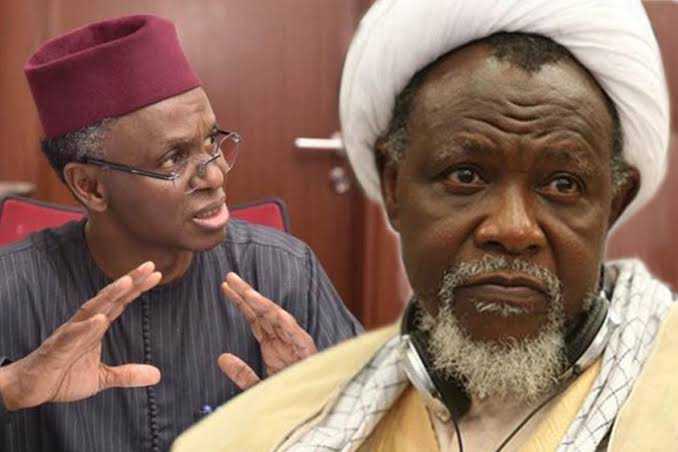 El-Rufai Is Pushing Us To The Wall – Shi'ites Community Reacts Over Demolition 6 Structures Out Of 48
Members of the Islamic Movement in Nigeria, otherwise known as 'Shi'ites', have reacted to the demolition of six structures out of 48 belonging to the sect on Sunday by the Kaduna State Urban Planning and Development Authority.
The IMN members who addressed a press conference in Kaduna on Sunday evening after the demolition of the sect's structures, including schools, hospital and a private residence accused Governor Nasir El-Rufai of pushing them to the wall.
KASUPDA had in a leaked memo which went viral last week, sought the approval of the governor to carry out pending demolition of structures across the state, including 48 structures belonging to the Zakzaky led Islamic Movement.
The agency had in the early hours of Sunday carried out the demolition of six of the Shi'ites structures in Kawo, Rigasa, Tudun Wada and Ungwan Rimi areas of the state, using security personnel to chase out the occupants of the buildings at unholy hours.
One of the leaders of the Movement, Yunusa Lawal, flanked by other leaders, said the demolition of their structures worth millions of naira was not only "illegal, but vindictive, as the only reason given by the government was that IMN has been banned."
Lawal also said that the IMN was not served any notice of demolition from Kaduna State Government or any of its agencies.
He said, "We were never served any notice to know the reason for the demolition, so we don't even know the location of the remaining 42 structures they plan to demolish. The only reason we saw in the leaked memo is that we are a proscribed movement but we are saying we are a religious community and we cannot be banned.
"El-Rufai is pushing us to the wall. We are law abiding citizens but there is a limit to everything. We cannot fold our arms. We must talk. We are bonafide citizens of Nigeria even El-Rufai is not a better citizen than us. He is bastardizing everything but we will continue to be law abiding citizens.
"So, we are calling on the government and the people of good conscience to prevail on the government of El-Rufai to stop this thing they have started because they said 48 structures, now six of our structures are down. We don't know the 42 others across the state.
"If care is not taken, that means there will be more bloodshed because some people might react to what the government is doing. Even yesterday (Saturday) people would have reacted if they knew they were coming, because I can sense if people in Rigasa knew yesterday that this thing was going to happen today (Sunday). We wouldn't have been having this press conference today because Kaduna would have been in turmoil.
"To be frank with you, we have had enough. Enough is enough. Since 2015 to date, there is no month they will not kill at least some of our members either in Kaduna or Abuja and in some other parts of the country."