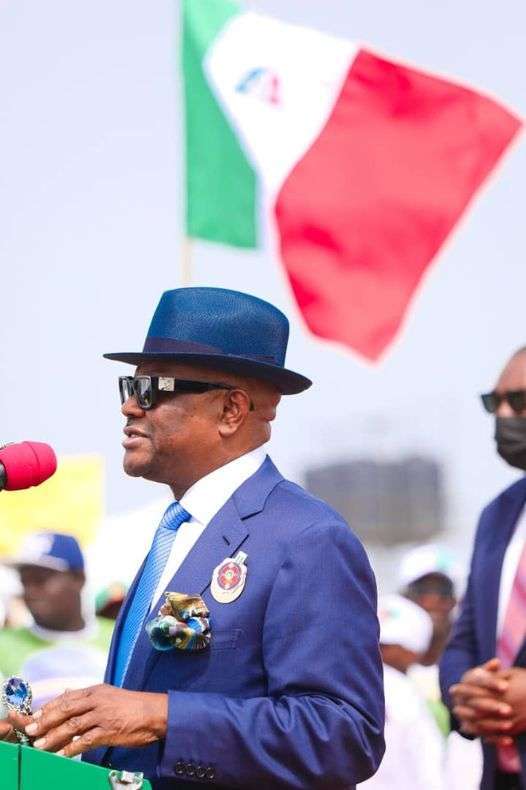 FCT Council Chairmen Lament, Abduction Of 19 Persons From Bwari, As 30 Die In Kuje Landslide Caused By Illegal Minning
Gunmen suspected to be bandits on Thursday abducted 19 people in Bwari Area Council of the Federal Capital Territory—FCT.
This was disclosed by the Minister of the FCT, Barrister Nysom Wike during his maiden meeting with the 6 council chairmen.
The former governor of Rivers State also called for local surveillance in the six Area Councils of the nation's capital to tackle insecurity. Meanwhile, about 30 people were killed a few days ago in a landslide caused by the activities of illegal miners in Kuje Area Council of the FCT.
Wike who expressed his frustration said he would invite the FCT Director of the Department of State Services—DSS as well as the Commissioner of Police to receive adequate briefings on the kidnap and facilitate rescue operations.
While he asked the council bosses to set up a surveillance taskforce in their areas to monitor mining activities, Wike said he would meet with his counterpart in Solid Minerals, Dele Alake, to eliminate illegal mining in the FCT.
Speaking on the challenges facing the councils, Kwali Area Council chairman, Danladi Chiya appealed to the Minister and the Minister of State, Dr Mariya Mahmoud to come to their aid.
He said, "When we heard about your appointment, we were happy because you have been a Council Chairman and therefore understand our challenges. "Our challenges are inadequate funding of the local government system.
"We have the major challenge of insecurity across the six Area Councils. Just today (Thursday), about 19 people were kidnapped in Bwari Area Council. I just received about five in my council who were in captivity for about six days.
"The next is the development of satellite towns. The issue of sanitation is one of the major challenges confronting us.
"There is also no efficient transport facility. The Abuja Urban Mass transit buses are no longer functional.
"Then there is the issue of land allocation. You sit in your council, and your backyard will be allocated to someone you don't even know. Your graveyards and worship centres would be allocated and we are saying that we should be carried along in terms of land allocation.
"The responsibility of primary school teachers is on the local governments. The UBE's payment of salaries lies on the council which by law is supposed to be the 60-40 percent. We are pleading that you help us so that this issue can be looked into"
Kuje Area Council Chairman, Abdullahi Sabo brought to the attention of the Minister the menace of illegal miners.
He said, "The issue of illegal mining in the FCT. There are indiscriminate mining licenses given out and this has led to insecurity. They give letters of consent to Chinese people.
"Just few days ago, there was a landslide that took the lives of 30 people as a result of the activities of illegal miners. We appeal to you to engage the Minister of Mines to stop mining in the FCT".
The Chairman of Bwari Area Council, John Gabaya called for greater inclusion of council chairmen in land allocations.
He said, "Sometime ago in 2017, I was a Council Staff then. All the Council lands departments are centralized in Area 11 and since then there is no way of checkmating their activities. If you look at Dutse, you will see unplanned developments and you would be wondering who is controlling them. We only watch. We can't do anything because we can't control them".
In response, Wike assured them that; "I am here to work for the FCT, not to work for any political party. I am here to support the administration of Asiwaju to realize the dreams of the founding fathers. It doesn't matter your political affiliations or religion, I am here to serve all.
"We cannot achieve anything without support from the Councils. We are not struggling for power and so we have to collaborate.
"It is in your interest as council chairmen to work for the people and that you can do by collaborating with us. What affects you affects me and so I will not be anywhere and allow Area Councils to be shortchanged.
"I will want to advise that we manage what we have but we will work to ensure that what you are supposed to get, that you get it and nobody will shortchange you.
"Insecurity is a major problem all over and those of you who are outside the Municipality, you have to work hard. Information is key. The incident of kidnap you talked about, nobody has reported that to me. It is a serious issue and we need to call an emergency security meeting. I have to call the Director of SSS and the CP now to give me more details because it is very embarrassing to me. Though, I am happy you said the SSS official and the DPO in the affected council are informed on the situation.
"On sanitation, we have a problem. Sanitation is a big issue. It is the duty of the council not just to collect the fees but to dispose of refuse. We have to sit down and work together on this by adopting a common template.
"On illegal mining, I will talk to the minister. Ordinarily, I would say you should also form your own surveillance taskforce as Chief Security Officers of your councils and make arrests and we will support you. However, I will meet with the minister".