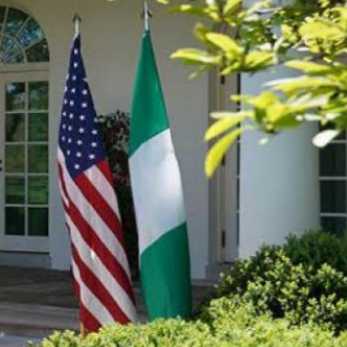 Federal Govt Frowns As UK, US Warns Citizen Of Possible Terror Attacks In Nigeria, Lists 23 States To Avoid
The United Kingdom has raised an alarm over the likelihood of terrorist attacks in Nigeria, including indiscriminate attacks against crowded public locations.
It advised its citizens against undertaking trips to Borno, Yobe, Adamawa, Gombe, Kaduna, Katsina, Zamfara states, and riverine areas of Delta, Bayelsa, Rivers, Akwa Ibom and Cross River states.
In the advice by the Foreign, Commonwealth & Development Office (FCDO), Britons are also advised against undertaking non essential trips to Bauchi, Kano, Jigawa, Niger, Sokoto, Kogi States and within 20km of the border with Niger in Kebbi State, Abia State, non-riverine areas of Delta, Bayelsa and Rivers States, Plateau State, Taraba State, Anambra State and Imo State
The advice read that around 117,000 British tourists visit Nigeria every year, noting that most visits are trouble-free, but a small number of British people encounter problems. "You should take sensible precautions to protect your safety," it urged.
The advice further read that: "On 3 November 2023, the US Embassy in Nigeria issued notice of an increased threat to major hotels in Nigeria's larger cities. UK Travel Advice notes that terrorists are very likely to attempt attacks in Nigeria, including indiscriminate attacks against crowded public locations. Discretion and judgement should be used with regard to activity in public places including large hotels, with visitors encouraged to remain vigilant and alert while paying attention to their surroundings at all times.
"Off-cycle state level elections will take place in Bayelsa, Imo and Kogi on 11 November 2023. Based on past election practice it is likely that movement restrictions will be enforced within those three states from midnight to 6PM on 11 November. Movement restrictions may be extended at any time. It is likely that personal vehicles will be blocked from attempted road movement on the Election Day. There is a heightened risk of rallies and demonstrations which could turn violent.
"The Nigeria-Niger land border has been closed and commercial flights between Nigeria and Niger have been prohibited by the Nigerian authorities, in response to the political situation in Niger. Flight times between Nigeria and other neighboring countries may also be affected.
"Terrorists are very likely to try to carry out attacks in Nigeria. Most attacks occur in Borno, Yobe and Adamawa States in the North East. There have also been significant attacks in other states, including in Gombe, Kano, Kaduna, Plateau, Bauchi, Taraba, Kogi, Niger, and the Federal Capital Territory. Further attacks are likely and could occur at any time. Attacks could be indiscriminate and could affect western interests as well as places visited by tourists. Attacks are more likely to attack crowded locations or symbolic targets, such as places of worship. There is a heightened risk during religious events, public holidays or election periods."
The advice added that: "There is a high threat of criminal and terrorist kidnap throughout Nigeria.
"Incidents of banditry and inter-communal violence occur frequently throughout Nigeria. Attacks can occur without warning.
"Political rallies, protests and violent demonstrations can occur with little notice throughout the country. International news events can sometimes trigger anti-Western demonstrations. There is the potential for increased tension on Fridays.
"Throughout Nigeria there are high levels of violent street crime including muggings, car-jackings and armed robbery in Nigeria. You should be vigilant at all times.
"UK health authorities have classified Nigeria as having a risk of Zika virus, Cholera, Lassa fever, Yellow fever, Monkey pox, Poliomyelitis and Ebola virus transmission.
"It is more important than ever to get travel insurance and check it provides sufficient cover.
However the Nigerian Government has cautioned the United States, and other foreign Countries to stop generalizing isolated incidents, about insecurity confronting the country.
Reacting to the advisory issued by the U.S. government to its citizens, the Minister of Information, Mohamed Malagi during a press conference in Abuja on Monday warned the US and other foreign countries against generalizing isolated security incidents in the country.
The President Bola Tinubu-led Nigerian government has warned that the recent travel advisory issued by the United States of America on Nigerian hotels will create "needless panic, severely adverse economic impact and undermine efforts to attract investment into the country."
The United States government had in an advisory issued over the weekend warned its citizens to keep off hotels in the country over alleged plot by terrorists to attack the facilities.
The Minister also said the Nigerian government is doing everything possible to tackle insecurity and guarantee safety of tourists and others in the country.
Malagi said, "We understand the concerns raised by the United States government in their recent travel advisory, but believe that we mustn't generalize isolated incidents across the entire hospitality industry.
"What we have seen is that such advisories do not achieve anything other than needless panic, and they can have a severe adverse economic impact, not to mention what they do to undermine the government's efforts to attract investment.
"We have consistently prioritized the safety and well-being of all visitors to our country. We have implemented comprehensive security measures, both at the federal and state levels, to ensure the safety of tourists and international guests.
"These measures include intense intelligence gathering, acquisition and deployment of additional platforms, training, and re-training of personnel, cooperation with international law enforcement agencies, among others, to maintain a secure environment."
Sahara Reporters