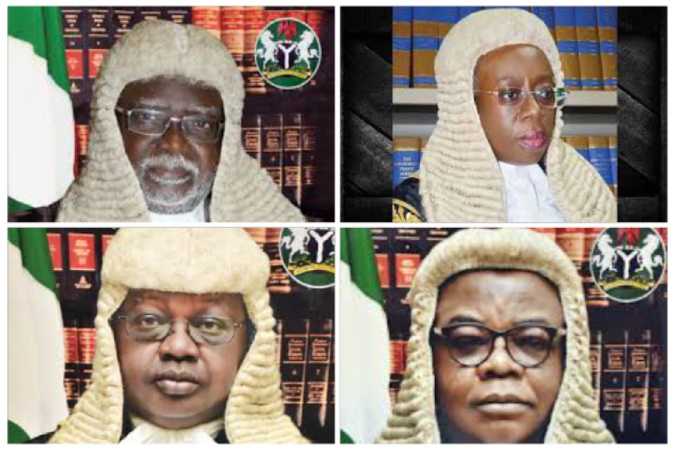 Flying Of Judges To London For Training By AMCON Calls For Serious Concerns- Stakeholders Laments
The training of top judicial officers in London, United Kingdom reportedly bankrolled by the Asset Management Corporation of Nigeria (AMCON) has provoked controversy back in Nigeria.
SaharaReporters learnt that Ahmed Kuru, AMCON Managing Director and the Director and Chief Executive Officer of the Nigerian Financial Intelligence Unit (NFIU), Modibbo Tukur, are actively involved in the ongoing annual training for top judicial officers in London.
Sources accused AMCON of flying the judges to London for the training at huge expense even when almost all the resource persons are from Nigeria. Hon. Justice John T. Tsoho, the Chief Judge of the Federal High Court, Justice A.O. Faji of the Federal High Court and other Federal High Court Judges from Nigeria are currently in London for the training, which was declared open on Monday, July 31 by the High Commissioner for Nigeria in the UK, Sarafa Tunji Isola. Sources lamented that despite costing Nigerians the loss of thousands of jobs through lack of expertise in its debt recovery operation and liquidation of several companies, AMCON sponsored judges to the UK for training amid economic challenges in Nigeria.
"Despite causing job losses and destroying several businesses in Nigeria, AMCON sponsored judges to the UK for training and put them in a hotel.
"This comes at a time Nigeria is having challenges saving forex. This whole training during the judges' vacation is an organised racket by AMCON to bribe the Lordships and get them to compromise cases. We heard that foreign currencies were doled out to them.
"What if other agencies also take judges to various countries for training?" one of the sources said.
"Kuru and the head of NFIU are in London with some federal high court judges, claiming to be training them on financial-related cases.
"It turns out AMCON used third parties to arrange the façade or so-called training when only the National Judicial Institute (NJI) has the statutory power to train judges," another source said.
During the training, Kuru was quoted as saying, "My Lords, distinguished ladies and gentlemen, with the help of the judiciary, AMCON has been able to make notable progress, especially in enforcement. Granting of ex parte orders as well as orders to attach traced assets has compelled most recalcitrant obligors of AMCON to come to the negotiation table. To date, the Corporation has made recoveries of about N1.6 trillion, which include recoveries in cash and in the sale of assets.
"As Nigeria struggles with a huge debt burden, so is AMCON struggling with very recalcitrant obligors who have mastered the act of clinging to the technicalities, rather than settling their established obligations. We have noticed from experience however that some recalcitrant obligors have found new tricks of colluding with a third party who would present himself as the owner of the traced assets and file for the Order of Court to be set aside. We urge Your Lordships to kindly be wary of these characters.
"We cannot over-flog the important role the Judiciary play in National Development and as such Your Lordships remain vital to the success of AMCON. We still have many cases pending with the various divisions of the Courts. These matters are very vital to the success of the Corporation and particularly as we know that if we are unable to resolve them, it becomes a burden on our country's debt profile and taxpayer's money. Despite the achievements made, with the tremendous support of Your Lordships, we are still strongly battling with our debt recovery activities. It is very difficult, particularly given our peculiar situation."
"Out of a total of N4.664 trillion, we have so far recovered about N1.6 trillion in the more than 10 years of our existence. We still have a long way to go. About 350 obligors account for N3.957 trillion, which is above 84% of the total outstanding amount. Our debt is in the balance sheet of the Central Bank of Nigeria (CBN), and therefore a threat to the economy," he added.
Other Allegations Against AMCON, NFIU
In January 2022, SaharaReporters reported that Kuru had been arrested and detained by the Economic and Financial Crimes Commission over allegations related to sale of assets. Kuru was accused of asset diversion and selling seized assets to cronies at below-value prices by businessmen accused of loan default with banks.
He was invited by the EFCC and grilled. A reliable source at the EFCC said that Kuru was invited by the commission after he was confirmed to have sold assets worth billions of naira belonging to Atlantic.
According to the source, Atlantic was accused of loan default with Skye Bank and properties in collateral were seized while an action was instituted in court.
With the pendency of the court case, Kuru proceeded to sell the properties in dispute at a price far below the prevailing market value.
"Kuru will certainly spend the night with the commission as he is still undergoing interrogation," the source had added.
Similarly, in June 2023, an investigation by The Quest Times revealed that the NFIU CEO, Modibbo, covered up an indicting report showing the presidential candidate of the Peoples Democratic Party (PDP), Atiku Abubakar's involvement in alleged money laundering activities.
The report said new documents obtained during the investigation showed that Modibbo purportedly suppressed an internal report that provided evidence linking Atiku – a former Vice President of Nigeria, to illicit financial activities.
According to The Quest, The report contains detailed information regarding suspicious transactions and possible money laundering involving Atiku's financial dealings.
Sources within the agency were said to have confirmed that an extensive report detailing the money laundering activities of Atiku had been prepared within the NFIU.
It was reported that on June 4, 2019, the Maltese government, through its Financial Intelligence Analysis Unit (FIAU), sent a 6-page Spontaneous Intelligence Report (SIR) to the NFIU, along with counterpart agencies in Italy, British Virgin Islands and Switzerland, indicting Atiku and his Italian-born Nigerian business associate, Gabriele Volpi, who works in the Nigerian oil industry.
The FIAU investigation showed that Mr. Volpi owns 67.74% of Orleans Invest Holding Ltd, while Atiku owns 17.2% and The Versailles Trust owns the remaining 15%.
Orleans Invest Holding is a company registered in the British Virgin Islands in 2004 under registration number 631238. Orleans was established in Malta in 2012 (RC: C58298), which is a major concessionaire in Nigeria's oil industry and a key partner in Atiku's Intels Nigeria Limited.
The FIAU report noted that Mr. Volpi was involved in "self-laundering, fictitious asset heading in Italy, tax evasion, and undeclared cash trafficking at Swiss customs."
He was also accused of "sending USD 27,000,000 to the USA through" shell companies LetsGo Ltd and Sigma Holdings Ltd. He is allegedly being pursued by several governments, including Italy's, alongside Gianpiero Fiorani, an Italian banker and manager who was involved in the Italian banking scandal known as "Bancopoli" in 2005.
Mr Volpi, according to FIAU's investigations is "the second shareholder of the Italian bank Banca Carige and the partner of companies named Eataly and Moncier."
The FIAU also discovered that the Maltese fund administrator, Orleans Invest Holdings Ltd, was instructed "not to submit the audited aggregated financial statement … to the Maltese Registry of Companies because the name Orleans Invest Holding Ltd would be disclosed as required under the International Financial Reporting Standards."
The agency suspected that this troubling development was related to Atiku and Volpi's alleged involvement in large-scale money laundering operations and violations of the Foreign Corrupt Practices Act.
This is because the FIAU found that Atiku was allegedly involved in authorising the "withdrawal of USD 78,000,000 from the Bilateral Air Service Agreement's bank account" in 2008.
However, Modibbo was been accused of breach of trust as he reportedly took no action on the SIR where Atiku was indicted, for unknown reasons.
NFIU Associate Director (Directorate of Intelligence, Investigations Support, and CTR Analysis), Mustapha Abdul-Rahaman, reportedly wrote to the EFCC and the then-Inspector-General of Police on July 22, 2020, informing them of the Maltan government report on Atiku and Volpi and the actions both had taken in response to the report after more than a year had passed with no action on the SIR.
But Abdul-Rahaman's appointment was reportedly terminated shortly after he sent the letter to the anti-graft agency and the police boss. Also terminated was the appointment of the Associate Director (Compliance & Analysis), Ms. Fehintola Salisu, who was also a whistleblower.
NFIU, however, denied the allegations in The Quest report, saying it did not shield Atiku.
The NFIU Chief Media Analyst, Ahmed Dikko, who stated this in a release shortly after the report, described it as a fake and malicious publication targeted at Modibbo and to tarnish the image of organisation.
"We had mentioned clearly in our earlier responses on this same subject matter from 2019 to 2021 that no member of the NFIU management staff is personally or officially known to former vice president Atiku Abubakar, we are open to evidence to be contradicted on that," the organisation said.
Credit: Sahara Reporters