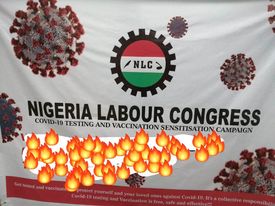 Health Immunity: Rivers State Ranks Second Lowest Of People Vaccinated Of Covid-19
Rivers State ranked the second to the last in health immunity in Nigeria after Ondo State.
The Zonal Technical Officer of the National Primary Healthcare Development Agency, Edu Elechukwu who disclosed this at the COVID19/Peer Influencers in Port Harcourt, Rivers State said the state is at risk health wise.
Elechukwu explained that the data was obtained following the daily data submission and analysis of Rivers State, stating that Rivers State has only 14% of people vaccinated of COV 19.
According to him, " What this imply is that the State is at risk and Nigerian Labour Congress ( NLC) has allots to do to convince members and workers in the state to get COVID 19 vaccination.
" If there is Covid 19 outbreak in the country, the Rivers state will be seriously hit because of her low level of health immunity" he warned.
Elechukwu further revealed that the state has not achieved the 50% health immunity that needed and recommended by the World Health Organisation (WHO) to get the states covered, adding that NLC has much to do in terms of mobilization of workers to get vaccinated and as well as debunked rumours and dispel rumours that vaccination of COVID 19 causes death, illness and barrenness.
He reassured that the vaccination is safe and has been satisfied by the Nigeria government for her citizens. It is also important to reassured that the efficacy of the vaccine is approved by the relevant agencies.
The State Coordinator, Matthew Olobe urged leaders of NLC in the State to sensitive and Mobilize workers to get workers vaccinated of COVID 19 so that workplaces will be free of COVID 19 for Optimal productivity to be attained.
Olobe commended the Global Fund for the partnership to undertake the project, adding that social mobilization for COVID 19 testing and Vaccination in the workplace would compliment the efforts of government on public health management in Nigeria.
Olobe who is also the State Secretary of NLC revealed that the focus of the project is for Nigerian Labour Congress to engage in massive mobilization and sensitization of workers and the employers to embrace the COVID 19 test and Vaccination against virus.
According to him " This is because the workplace provides access to workers in their large numbers and can be used to provide them with information on the pandemic".
The State Coordinator revealed that the project was intended for implementation in the 12 high burdened Covid-19 states in Nigeria, which are Lagos, Rivers, Kaduna, Plateau, Oyo, Edo, Ogun, Delta, Ondo, Kano, Kwara and the FCT.
" The timeline for the project was from January 2021 to 31st December, 2023.
The activities carried out so far under the project include:
Review and Validation of the Workplace Guideline on Covid-19 and others", he noted.