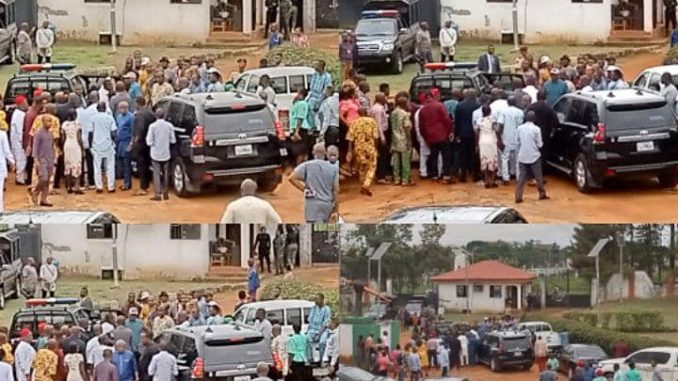 How Anambra Lawmakers Resisted DSS Operatives Attempt To Arrest Member Elect During Valedictory Thanksgiving
There was pandemonium shortly after the Anambra Assembly on Thursday finished their Valedictory sessions, as four armed men suspected to be operatives of Directorate of Security Services (DSS) tried to whisk away member-elect for Nnewi North constituency, Mr Onyekachukwu Ike.
The armed men drove into the Assembly complex in three vehicles and grabbed the member-elect after he participated in a valedictory thanksgiving mass for the seventh Assembly.
They whisked the member-elect into their vehicle and were trying to drive out of the Assembly complex when security personnel quickly blocked and locked the exit gate of the chamber.
The Acting Clerk of the Assembly, Mrs Esther Aneto and other senior staff lamented that the suspected DSS operatives did not inform them or even the Police personnel before trying to whisk away their guest.
One of the suspected DSS operatives however, explained that they had a court order to arrest the member-elect for Nnewi North constituency. It took the intervention of Speaker Uche Okafor and the Deputy Governor, Dr Onyeka Ibezim who came to represent the Governor at the Valedictory session of the seventh Assembly, before the member-elect was released.