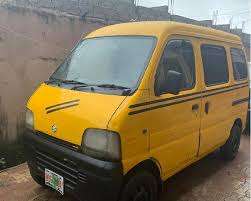 How I Survived Armed Robbery Experience In The Hands Of Mini Bus Driver, Conductor -Man Narrates Commuting Experience In Portharcourt
A Portharcourt resident Chijioke Enyia has narrated how the driver, conductor of mini bus aka Keke Bus he boarded robbed him of his handset and other belongings.
Mr Enyia in an interview with our reporter after retrieving his mobile phone said at about 8pm that fateful day, he boarded a mini bus aka keke bus, white in colour at location junction heading to Agip junction. .
According to Mr Enyia, they were four persons in the keke bus as at when he boarded.
He said as they were approaching the Police station at Ada George, the driver made a comment, that the conductor should close his door, so he felt is their normal comment when they see Police.
The unsuspecting victim said the moment they drove passed the Police station, they hit him something on the neck and starting hitting me .
He said the conductor brought out gun and pointed at him and threatened to shoot him if he resisted.
Mr Enyia said they collected his two phones,3 ATM cards, blue tooth, wrist watch .
The victim stated that as when they got to Chinda/Ada George, there is a place that is dark, where a dustbin truck normally pack.
He said they pushed him out of the vehicle and zoomed off.
He disclosed that he reported the incident to Rumupakani(Ada George) Police station that night.
"I want people to be careful and watchful before boarding vehicle because the 'boys' are desperate. They are ready to kill. They are ready to do anything. Watch the vehicle very well before you go in Suspect everything communication, every movement in the vehicle while you are inside the vehicle" he said.