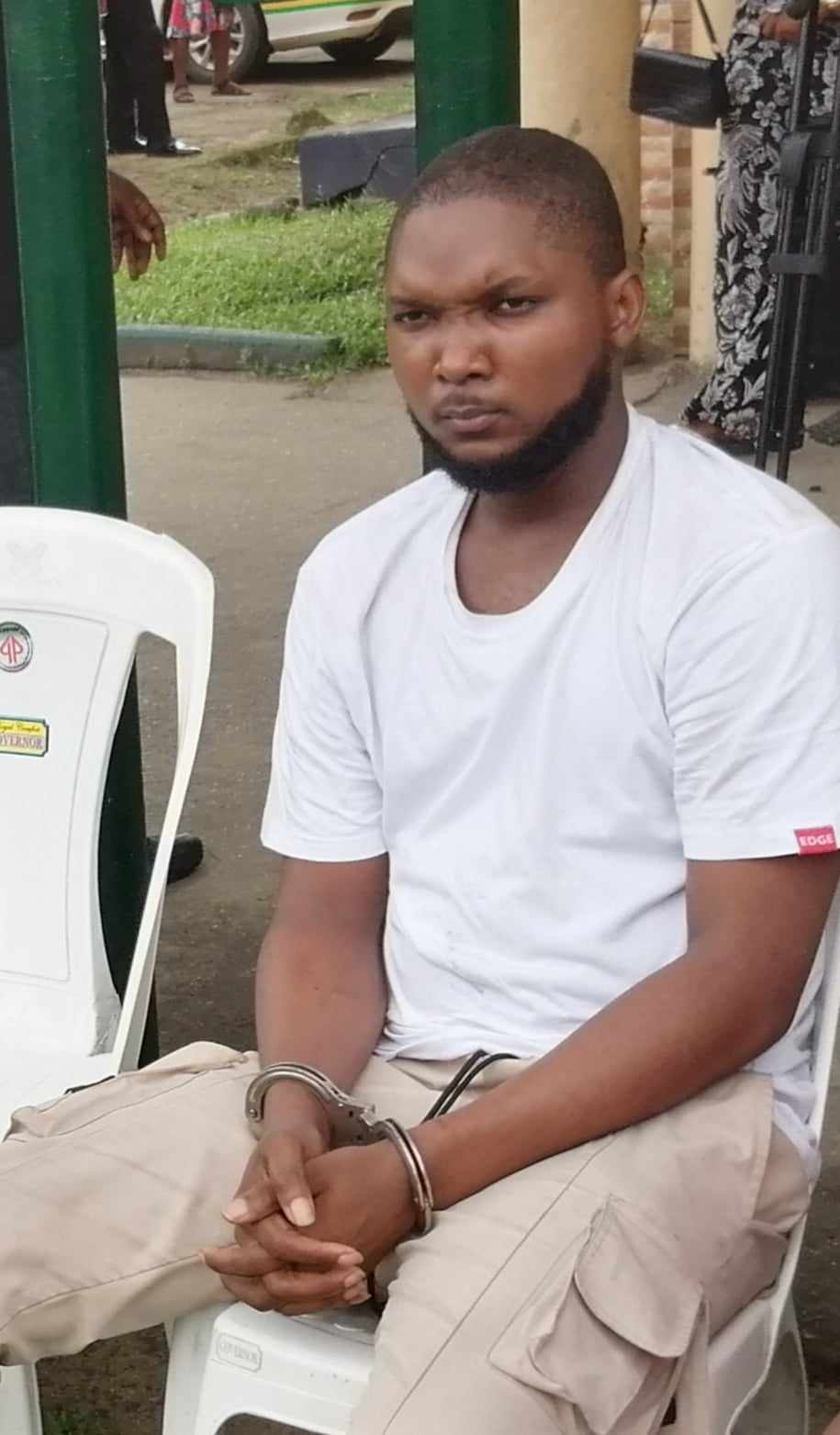 I Didn't Cut My Girlfriend, I Woke Up and Met Her Dead – 400 Level Uniport Student Narrates His Side Of The Story
The Rivers state police command has paraded a 400 Level student of University of port Harcourt  who  allegedly murdered his girlfriend and removed her body parts.
Briefing  Newsmen at the command headquarters at Moscow road, the state Commissioner of police CP Emeka Nwonyi  said the Command has achieved yet another victory in the struggle against crime and criminality, which is outlined here:
1. ARREST OF SUSPECTED MURDERER AND REMOVAL OF BODY ORGANS FOR RITUALS
2. ARREST OF CULTISTS AND RECOVERY OF FIREARM
3. ARREST CHILD TRAFFICKING AND RECOVERY OF FOUR CHILDREN
4. RAID OF CRIMINAL HIDEOUT
However paramount to most journalist on the list of achievement was the trending video of how a 400level uniport student murdered his girlfriend  which the Commissioner of police gave details as follows
He said on Wednesday, 25/10/23 at about 1530hrs, operatives of Ozuoba Division received a complaint from a good Samaritan and neighbor name withheld of Road 20, back of NTA Ozuoba. On Wednesday, at about 1400hrs that he went to his house where one Demain Okoligwe 'm' a fellow tenant and perceived a very bad odour and immediately rushed to the police station, where the DPO led detectives to the scene.
On arrival, the door was forcefully opened, and a Ghana must-go bag containing a lifeless body was recovered, back to the station and in a search of the flee suspects and boyfriend of the decease, one Demain Okoligwe 'm' 24yrs old, a petrochemical engineering 400 level student of Uniport boyfriend of the victim, occupant of the house, now the prime suspect who was traced last with the decrease was arrested for an inquiry.
The lifeless body and butchered body of Justina Otuene 'f' 20yrs old, a biochemistry 300-level student at Uniport, was recovered and deposited at the mortuary.
According to the CP Preliminary investigation is in progress, the case has been transferred to SCID for discreet investigation. Meanwhile the Command has condoled with the family of the deceased victim while urging young ladies to be cautious and careful about person they involve with in any form of relationship.
Meanwhile Damian, who has been accused of killing his girlfriend and dismembering her, while being interviewed by journalist the accused 400 Level student of UNIPORT, denied that her murder was premeditated;
Reporter: why did you butcher your girlfriend in such a manner?
Him: "I did not cut her, I did not cut, I did not cut her."
Reporter: Who cut her into pieces?
Him: "I did not cut her." I woke up and saw her dead, it was out of fear, I wrapped her to dispose of her body, but I didn't kill her.
our correspondent reports that throughout the interview, he showed not a single empathy nor feeling, even at worse, fake cries, towards a girl he had dated, according to him, off and on.
At a time he was almost smiling and showed so much composure maybe its his facial structure but had no empathy.
The question remains How did Justina Die? Was she beaten to death? Strangled? Poisoned? Drugged? Forced blunt trauma? Organs harvested?
What is his motive? And to think that he rented the apartment just one week before this incident calls for an immediate autopsy is needed to tell a lot of things.