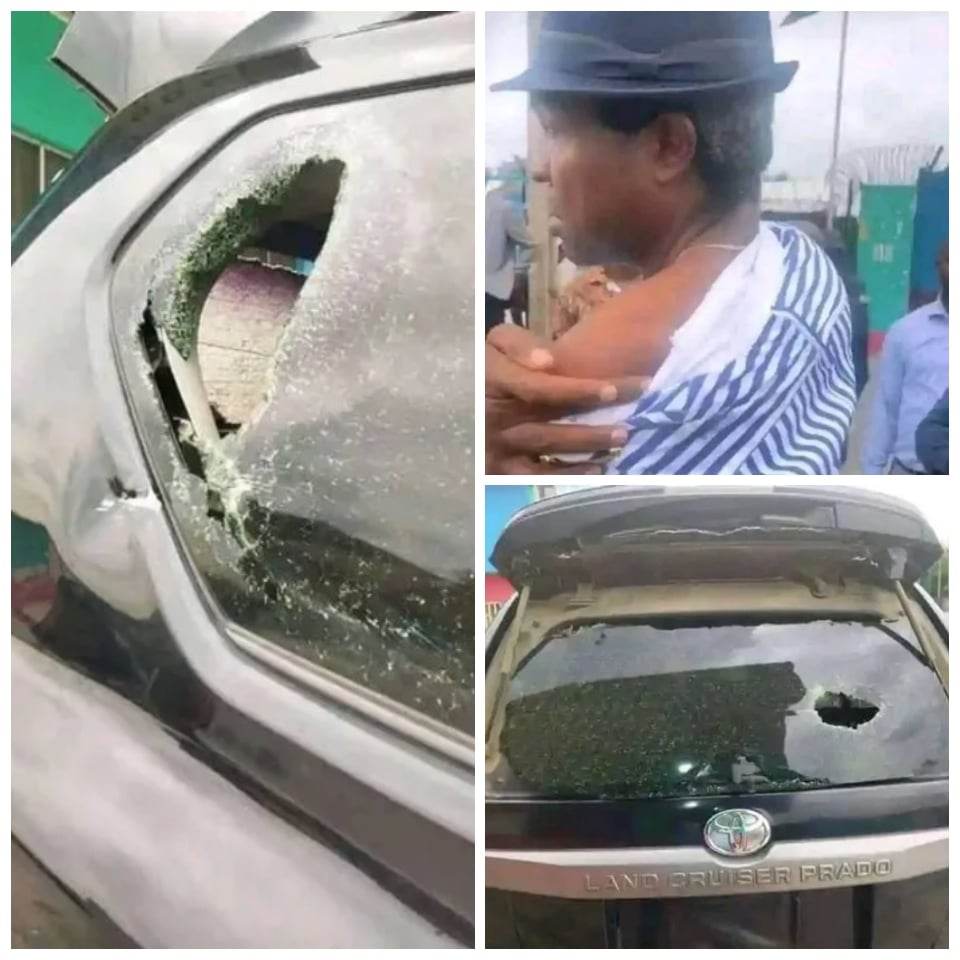 Inspection Of INEC Electoral Materials Turns Bloody In Rivers State, APC Guber, Tonye Cole Escapes Gun Battle
The All Progressives Congress APC Guber candidate in the last governorship election in Rivers state, Pastor Tonye Patrick Cole, says he just escaped Assassination attempt in Port Harcourt after heavy shooting as armed youths invade INEC office on Aba Road in Port Harcourt
Eye witness says gunshots were heard when members of the APC and the Peoples Democratic Party (PDP) in Rivers State clashed in the state capital over the inspection of electoral materials.
The source said trouble started when the APC Governorship Candidate in the March 18 poll, Tonye Cole and members of his party arrived the office of the Independent National Electoral Commission (INEC) in the state capital for the inspection of materials used in the last election in the state.
However, Cole was forced to turn back by members of PDP who were already on ground at the INEC office before his arrival refusing them gaining entry into the already tensed area,
The situation caused pandemonium as the PDP members demanded the joint inspection of election results and the Certified True Copies of result sheets for the just-concluded 2023 general elections.
The PDP protesters had blocked both the waterlines and GRA areas of Aba road, the two major access points to the INEC head office. No car was able to drive through that stretch of Aba road from the ground lanes, while those on the GRA flyover are trapped because there is no exit route.
The PDP protest was led by the Deputy Speaker of the Rivers State House of Assembly, Edison Ehie who was re-elected in the March 18 election and Samuel Nwanosike, the Chairman of the Ikwerre Local Government Area.
Though the party won the governorship and State Assembly elections, the Deputy Speaker of the Assembly who jointly led the protest, demanded that INEC grant the party a joint inspection of the materials used in conducting the March 18 elections.
Speaking to Journalists during the protest, a PDP chieftain in the state, Dr Samuel Nwanosike urged INEC to be transparent by allowing all political parties inspect the materials together.
Meanwhile the APC gubernatorial candidate in the last election, Architect Tonye Cole who alleged that he was assaulted and denied access to INEC office for inspection of materials lamented that democracy has been bastardized.
He said if not for God and the security details attached to me, these boys would have wasted my life.
Security agents were however on hand to disperse the protesters and cordon off the area.
The protesters believed that their demand would introduce the level of transparency needed to forestall unnecessary litigations and arguments.
Apart from the demand for joint inspection of materials, some inscriptions on the placards displayed during the protest also request INEC to make available the Certified True Copies of results.