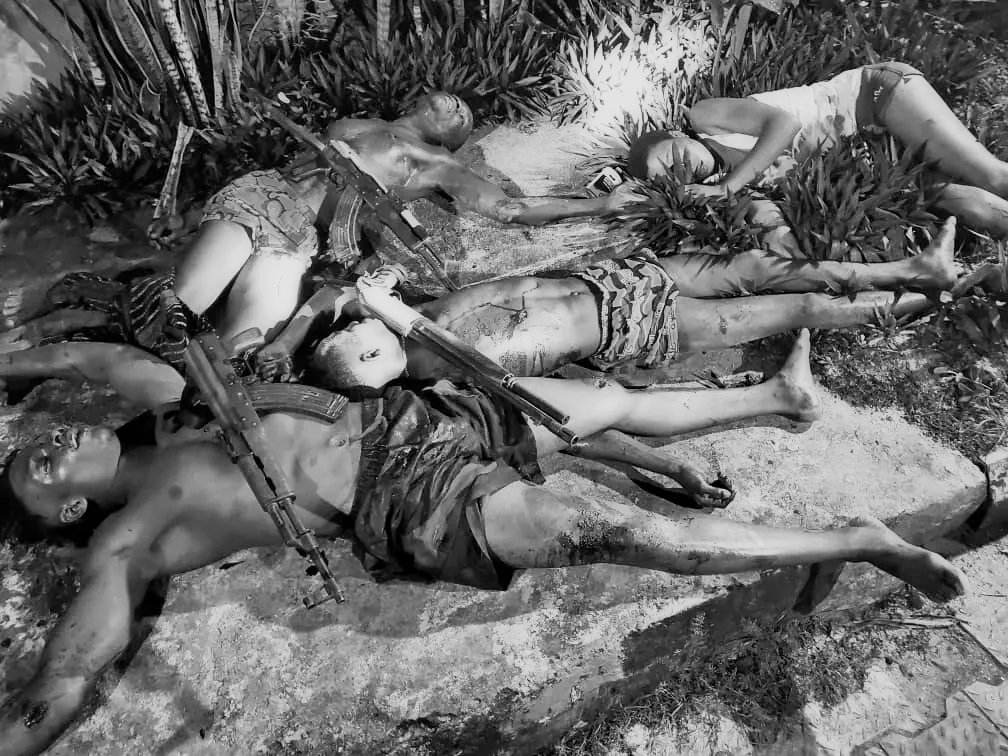 Killing Of Most Wanted Terrorist: Rights Groups Commend IGP Baba, PSC Chairman For Posting Best Operational CP To Rivers
We commend the Inspector General of Police, IGP Usman Alkali Baba and Chairman Police Service Commission, IGP(rtd) Solomon Arase for their visionary leadership, calculative mode of operation in posting the best operational and result oriented Commissioner of Police, CP Nwonyi Emeka to Rivers State which led to the killing of the most wanted terrorist in the state on Tuesday 13, June,2023 and reduction of crime to As Low As Reasonable Practical in the last three weeks.
We equally commend Rivers State Government for providing the enabling environment for Police and other security agencies to effectively tackle crime in the state.
CP Emeka can be likened to a round peg in a round hole .
CP Emeka, a highly operational Commissioner of Police sent to Rivers State has drastically reduced crime in Emohua, Ahoada East and West LGAs which have been flashpoints for cult killing and other violent criminal activities.
CP Emeka who is a huge motivator to officers and men under his command, shortly after his assumption of office gave a marching order to members of his management team, Area Commanders, heads of tactical units, DPOs, Officers and rank of the command in Rivers State to review their strategy to ensure the capture of Nwondi Onuigwe and other criminal elements terrorizing the state as criminality has no place under his reign.
The fearless and very rugged Assistant Commissioner of Police, Operations in the state and his men went all out to ensure the directive of the CP was carried out to the letter by storming the hideout of Nwodi and his gang at Ogoloma community in Okirika LGA at about 2:30am on 13,June,2023 which led to death of Nwodi, the most wanted terrorist in Rivers State and three members of his gang.
It is a known fact that Nwodi and his gang has been responsible for series of kidnapping, armed robbery, along Eastwest Road Emohua LGA, Rivers State.
Nwodi is said to be responsible for kidnap of Mrs. Gloria Izunfuo, Federal Commissioner of National Population Commission Rivers and Bayelsa state, who was kidnap at Ogbakiri junction while travelling to Porthacourt, hijack of two 18 seaters buses conveying National Youth Corps Members at Rumuji, Emohua LGA enroute Ondo to Porthacourt, kidnap of Justice Azunda Chief Protocol officer to Emeka Woke, ex-Chief of Staff Rivers State Government house. .
Nwodi is also said to be responsible for killing of Police men, other security agencies along the Emohua axis of East West road recently, hijacking of three to four buses of 18 passengers almost on weekly basis coming passing along the Emohua axis of East West road, daily killing of villagers in Emohua LGA communities and breaking of oil pipelines to finance his operations.
The Chairman of Emohua LGA Chidi Lloyd in a recent radio announcement had raised the one million naira bounty placed on Nwodi to two million naira while expressing assurance that CP Emeka with the caliber of Police Officers posted to Emohua LGA is ready to combat crime.
The result oriented CP Emeka who became sleepless over the activities of Nwodi, most wanted terrorist, other kidnappers, criminal activities mandated the ACP operations and other officers and men of the Police in the state who were sleeping in the bush almost on daily basis to leave no stone unturned to ensure all criminal elements are flushed out of the state.
CP Emeka further held a strategic security meeting with stakeholders in the state which included Local Government Chairmen, Traditional rulers, Youth organization, Community Development Committee,(CDC), Members of his Management team, Area Commanders ,DPOs, to synergize with the stakeholders on crime fighting.
CP Emeka in his continued desire to ensure maximum security in Ahoada East and West LGAs ravaged by cultists, deployed one of his best DPOs in Rivers State from Bori Police Division in Ogoni to Ahoada Police Division, Ahoada East and another seasoned crime fighter as a DPO to Akinima Police Division.
The action and strategies deployed by CP Emeka so far in crime fighting in the state has led to drastic reduction of violent crime almost to zero in Emohua, Ahoada East, West LGAs the major flash points for violent crimes as well as other areas in the state.
Natives and residents of the area are now sleeping with their two eyes closed. Natives and residents of Elibrada, other communities in Emohua LGA after the killing of Nwodi by the Police on June 13,2023 rolled out drums in celebration for the death of Nwodi.
We can compare the operational strategies of CP Emeka and his Management team as well as bravery of the ACP Operations Rivers State and his men like the neutralization of Anineh etc. by brave men then.
Once again we thank IGP Baba and IGP(rtd) Solomon Arase, Chairman PSC for the synergy in deploying CP Emeka to Rivers State at this point in time while urging the Commissioner of Police not to relent in his quest to make Rivers the safest state in Nigeria.
Signed:
Ambassador Green Isaac
Co-Ordinator, Civil Military Police and Paramilitary Relations (CIMPARR), Nigeria.
Festus Bonwin Esq, Board Member
and
I.K Alexander Esq, Chairman, Rivers State Chapter,
Centre for Basic Rights Protection and Accountability Campaign.
15, June,2023.