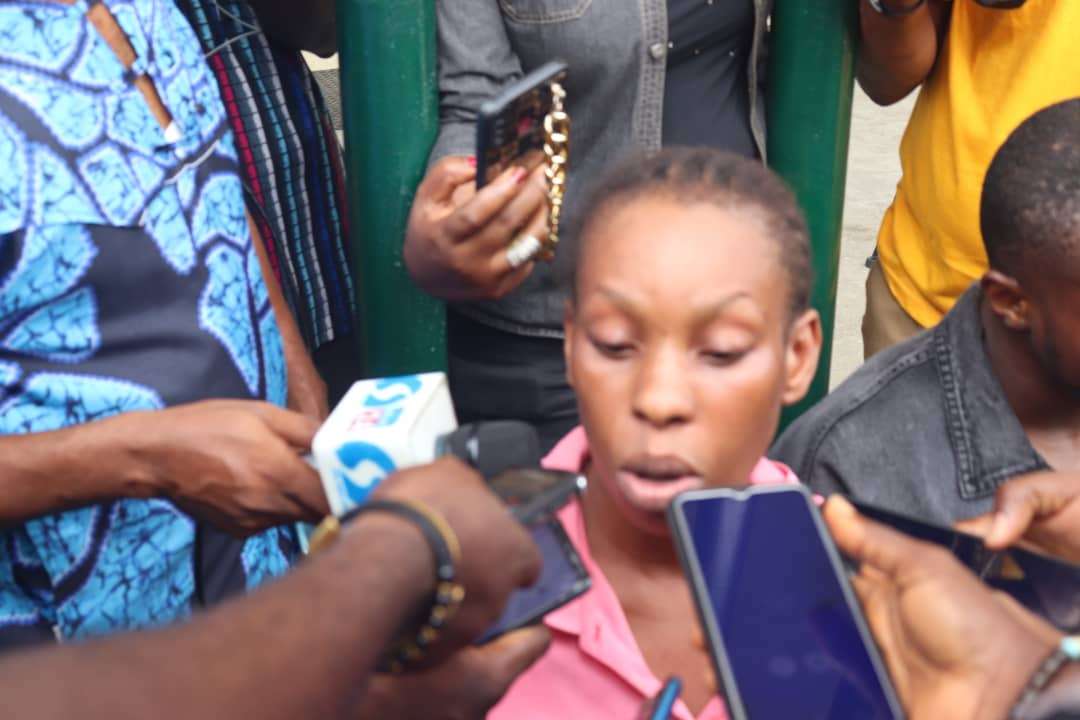 Lady Who Bathed Husband With Hot Oil Accuse Him Of Scamming 20M From Victims, Begs For Forgiveness
The Rivers State Police Command While parading nine male suspects also paraded the woman who doused  her husband with hot groundnut oil in Ikwerre Local local government Area.
Commissioner of Police, Emeka Nwonyi while parading the suspect at the command's headquarters in Port Harcourt told newsmen that the suspect identified as Favour Nwala upon committing the crime took to her heels but was tracked down and arrested. she will be charged to court after proper investigation.
Meanwhile a Lady identified as FAVOUR NWALA has given reason why she poured her husband EKELEDIRI NWANKWO hot groundnut oil.
FAVOUR NWALA who spoke when she was paraded alongside other suspects at the Rivers State Police command headquarters said she confronted her husband on information that he was among individuals who defrauded some people from Abuja the sum of twenty million naira.
NWALA said the confrontation resulted to change of attitude of her husband who started keeping late night on daily basis with the alleged intention to travel to any nearby African Country. she said she was angered by her husband continuous dubious character of fraudulently scamming innocents victims, until she heard that her husband Mr Ekelediri and his gang had duped twenty million naira from a victim whom they sold fake land to in Etche, and is planning to abandon her with their son to Japa to an unknown African country.
FAVOUR NWALA further narrated that the attitude of her husband made her to invite her sister to help her monitor her husband and that when her husband discovered the mission of her sister, he decided they she should leave his house which she opposed leading to more quarrels and fighting before she poured the hit oil on him
The lady who is a mother of one child who denied have any extramarital affairs with any other man, however regretted her actions and pleaded for forgiveness from Nigerians, saying that if she had known that the incident will result to what is it currently, she would have rather abandon the marriage to her parents house.
She said contrary to speculations that he was sleeping when she poured hot oil on him was a lie he concocted because they had a minor disagreement where her husband after beating her she ran out and later came home to make stew only for her husband to come back to continue with the beating while she was cooking but that anger drove her to lift the stew pot and doused him with the content.
Favour Nwala said she acted out of anger and frustration and is begging for mercy and leniency especially for the sake of her little 2 year old son, who will be deprived of Mothercare.