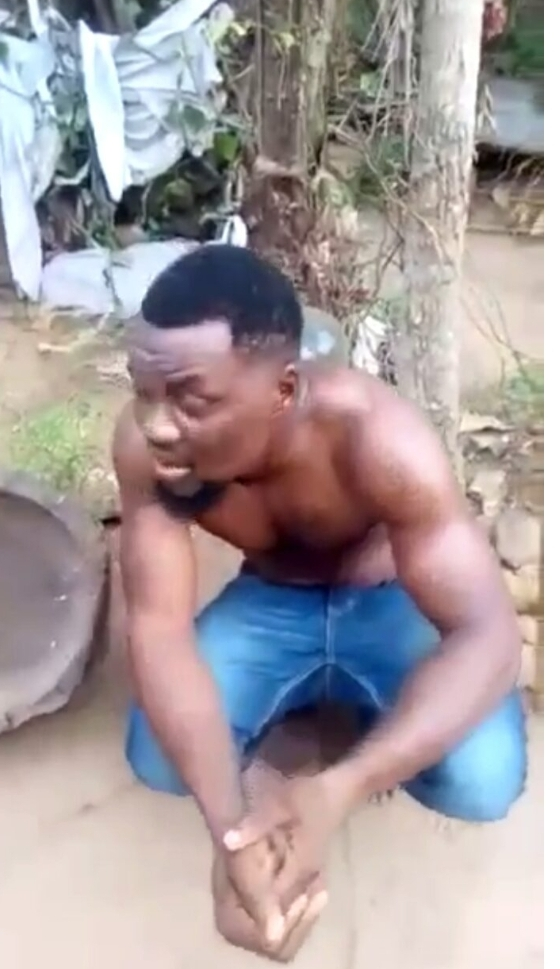 Man Struck Blind By A Deity For Fingering A Year Old Baby In Anambra Begs For Forgiveness
A deity in Nando town, Anambra East Local Government Area of Anambra State popularly known as Ita Nando has blinded a middle-aged man for reportedly fingering and defiling a girl just above 1-year-old girl in Onitsha.
In a video making the rounds on social media, the suspect who identified himself as Friday Ameh was seen stooping on the ground before a small basin of water in ita shrine surrounded by people while responding to questions from a man, suspected to be the chief priest of the deity.
The chief priest was heard saying that the crime took place in Onitsha, but because the victim denied the act, the victim's people decided to bring him to the deity in Ikem community, Nando to swear.
Responding to the questions asked, Ameh admitted committing the crime, saying "the deity is holding him for fingering a one and some months old girl, Ifechukwu Ameh."
When asked what he wanted them to do, he said he should be forgiven, saying that it was the handwork of the devil, but the priest in response reminded him that the crime is the kind that attract twenty one years imprisonment.
He however advised people to mind the things they do, saying that once the matter is brought to the deity, the truth would be exposed.
In his reaction, the state Police Public Relations Officer, PPRO, DSP Tochukwu Ikenga said that he does not have any information about the incident..
He said, "I don't have any information on this, please. I will reach out to the stakeholders in Nando, to ascertain the authenticity of the incident and possibly arrest the suspect."