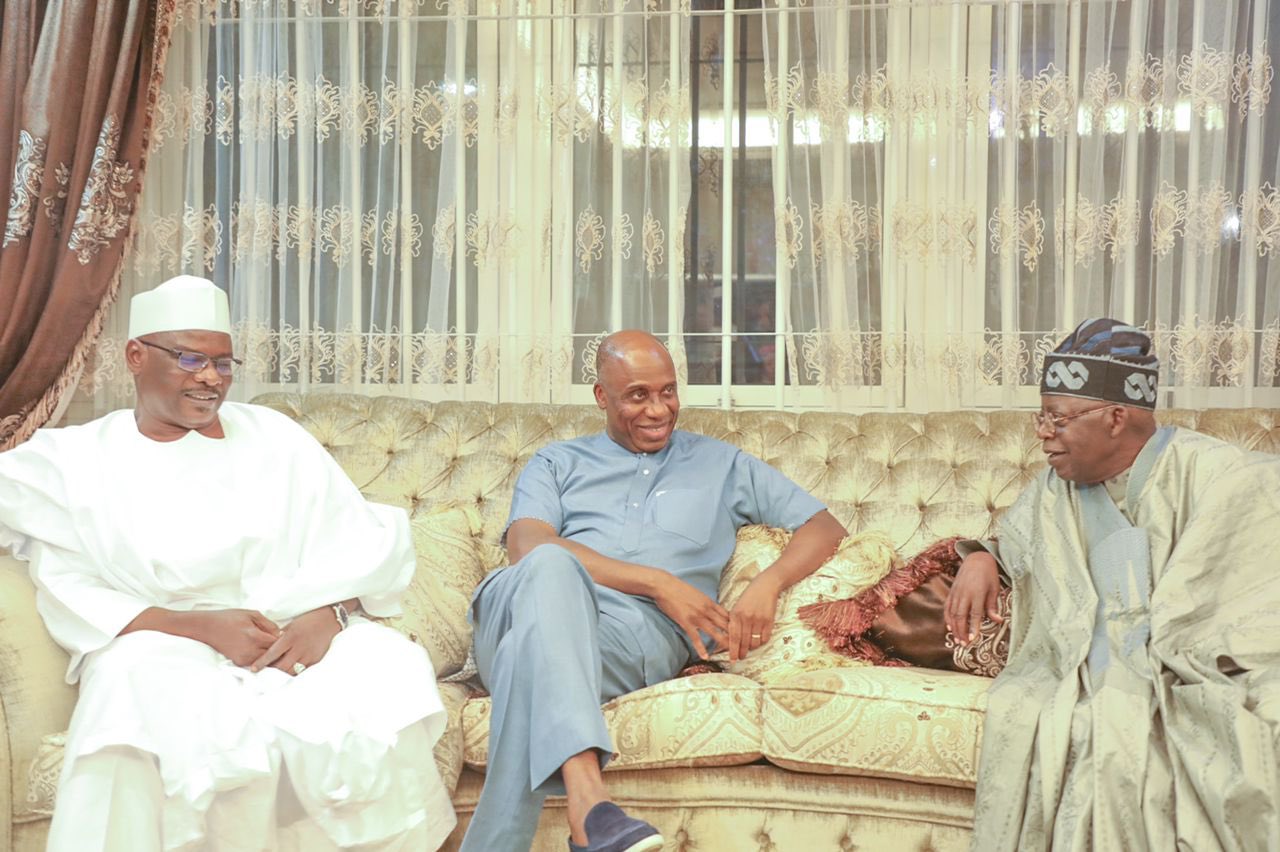 Ministerial Slot: Party Chief Kicks Says, Rivers APC Cannot Yield Privileges of Members To Satanic Third Parties and Evil Conspirators
Erstwhile National Publicity Secretary of the defunct New People's Democratic Party (nPDP) and chieftain of the All Progressives Congress, Chief Eze Chukwuemeka Eze says comments credited to one rabble-rouser and nefarious villain, Tony Okocha, that the Rivers State Chapter of the All Progressives Congress has conceded the Ministerial slot for the state to former Governor Nyesom Wike, is a cheap blackmail and cocktail of lies deliberately concocted in connivance with Wike – an avowed fortune-chaser and other vile elements within their ranks to cheat party faithful out of their due after a tasking and laborious electioneering outing that saw the emergence of the party's candidate, Bola Ahmed Tinubu, as president in a keenly contested election mid February.
The trending report which has caught media attention also accused former Transportation Minister and leader of Rivers APC, Rt. Hon. Rotimi Amaechi of working against the emergence of Bola Tinubu at the polls among other unsubstantiated imputations contrived in the pursuit of cheap media blackmail and in a bid to curry favour.
In a reaction contained in a statement made available to the media, Chief Eze said the dubious character, Tony Okocha, a former member of the party who lost his membership to anti-party, has severally taken up contracts from external forces and third parties – including Sen. Magnus Abe and Nyesom Wike, to infiltrate, ferment and sustain needless troubles within the circle of the Rivers APC to allow the opposition party free rides to victories in several elections since 2014 and this debasing engagement has remained a favorite trademark peculiar to him and his likes in the practice of political commercialization.
Recall that in furtherance of his shoddy merchandise and in an attempt to usurp leadership, having renewed his deal with Wike, Tony Okocha recently declared himself leader of the Rivers APC before a retinue of media organizations whose services were engaged and paid by the Rivers State Government. This he did when to the best of his knowledge, he cannot lead his household let alone any human organization. And just recently, the morally crude and undeveloped shenanigan suddenly turned around to ask that former Governor Wike should come over and lead the Rivers APC.
The public is invited to know that it was same daft punk and low-brained bootlicker from Rumuigbo diagnosed with diarrhea of the mouth that credited the victory of President Tinubu in Rivers State to Nyesom Wike despite the dogged efforts of the Rivers APC, several support groups, the Yoruba, Hausa and other ethnic communities as well as the adherents of Islam in Rivers State.
It is crass irresponsibility and abuse of free speech for any sane mind to mention that just one individual influenced the voting direction of over 200,000 people in a democratic society when it is established that same individual to whom the praise for electoral victory is being ascribed lost woefully in his very polling unit where his influence should have even begun. Wike suffered a damning defeat in his very primary area of influence – polling unit, yet Tony Okocha and his band of sycophants skewed the facts to suit their own political hustle.
All these and more are stage-managed tricks carefully crafted to rob the Rivers APC and it's leadership particularly, the former Transportation Minister, Rt. Hon. Chibuike Amaechi, in the mud discredit his good deeds.
The party chief said it is shameful to see how former Governor Nyesom Wike of the People's Democratic Party (PDP) and Sen. Magnus Abe – Governorship Candidate of the Social Democratic Party (SDP), are fighting dirty over who gets the Ministerial slot from Rivers State in an APC led federal government when there are very eminently qualified APC members suitable enough to be appointed into the federal cabinet. The situation amounts to robbing Peter to pay Paul.
As a matter of fact, Chief Eze said given his antecedents and past records including his love for bottles, the likes of former Gov. Wike does not qualify for public office in the new Nigeria everyone yearns for. A new Nigeria that is ready to brace-up with the rest of the world should source for technocrats and intellectuals, men and women of strong character who are result-oriented to man her public offices and produce results just like Amaechi did as Transportation Minister.
He said Rivers APC boasts of men of integrity with proven record of excellence in previous performances; morally sound technocrats, intellectuals and leaders in the academia and business world who will make the country proud in any given assignment and President Tinubu and his handlers should be fair enough to send for them as failing to do so will amount to sacrificing meritocracy in the alter of mediocrity.
Former Gov. Wike and others like him represent everything antithetical to the progress of society and must be jettisoned in all honesty at this critical moment of our national life.
The party Chief called on the public to disregard the nauseating media report emanating from an unrefined neuropsychiatric patient – Tony Okocha, describing it as a macabre display of an incoherent, starving jobber who jumps from one boss to another to quench the strike of hunger.
Ends
Signed
Chief Eze Chukwuemeka Eze,
APC Chieftain, member of APC Legacy Projects Media Team & former National Publicity Secretary, nPDP
05 – 07 – 23