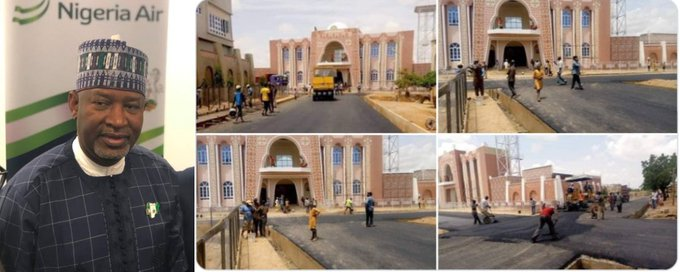 Nigeria Air: Netizens Push For The Arrest, Prosecution Of Buhari's Nephew, Hadi Sirika
Public pressure is mounting on the Economic and Financial Crimes Commission, EFCC to arrest and probe allegations of corruption raised against the immediate past minister of aviation, Hadi Sirika who is also reportedly, a nephew of former President Muhammadu Buhari over the scandal around the establishment of Nigeria Air.
The pressure in the public space is coming after the revelation last Tuesday by the acting managing director of Nigeria Air, Captain Dapo Olumide that the aircraft reportedly brought into the country penultimate week as belonging to the airline was actually chartered from Ethiopian Airlines to show off.
The revelation coming with allegations of billions of naira spent on the project by Sirika has inspired momentum for the investigation of Sirika by the nation's anti-corruption agencies. The pressure to arrest Sirika, a nephew of former President Buhari was being pushed strongly on Twitter on Thursday morning.
here are a few tweets
David Hundeyin PA @iamdlaw2
The money Hadi Sirika used to hire Ethiopian plane, rebranded and painted it before flying into Nigeria can be used to build over 400 classrooms blocks drill over 5000 boreholes for community without a single source of water. This is just for the show of shame
onlyOlu @empror24
Ethiopia Airlines officials are culprits with suspect criminal investigations of Nigeria Air; Nigerian Taxpayer money to their pockets. EFCC should do the needful to the Minister of Aviation Mr, Hadi Sirika.He needs to refund our money spent on renting the aircraft & deco paints
.Bigwig Austin™ @aai_austin
Buhari kept borrowing money every four market days only for the borrowed money to be looted or siphoned by Hadi Sirika & his colleagues in govt Now we owe N77trn debt, subsidy had to be removed so we could pay for their stolen loans God punish u & ur family for supporting APC
Usen @OliverUsen So, when will @officialEFCC and @icpcnigeria invite Hadi Sirika for questioning? Let it be known that Buhari and Osibanjo ran the most incompetent and corrupt government ever.