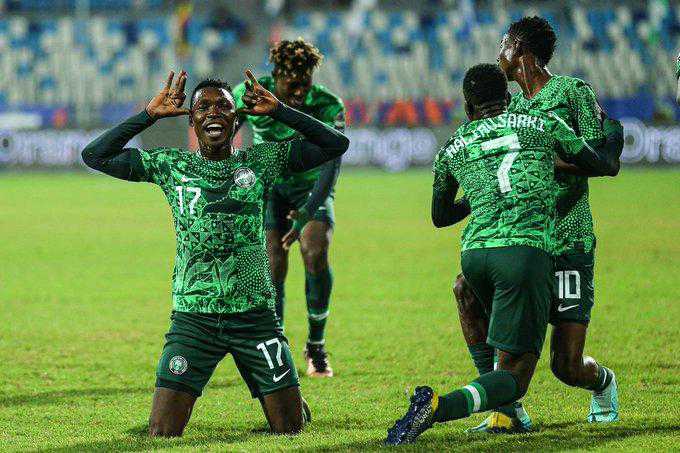 Nigeria Flying Eagles U- 20 Advance To Knockout Stages, Beat Italy 2-0
The Flying Eagles, Nigeria's U-20 national team, on Wednesday, advanced to the knockout stage of the 2023 FIFA U-20 World Cup after beating Italy 2-0 at the Estadio Malvinas Argentinas in their second Group D game.
What could have been a promising move for Nigeria broke down in the 14th minute. Eletu won a tussle in the midfield, found Ibrahim Muhammad who found Salim Fago Lawal, but the ball was cleared by an Italian defender.
There was a huge let off for Nigeria as the ball struck the bar before Benjamin Fredrick cleared the ball. The Eagles were under intense pressure orchestrated by Italy number 10, Baldanzi.
Flying Eagles head coach Ladan Bosso made just one change to the starting lineup against Dominican Republic with AC Milan youth product Victor Eletu taking the place of Tochukwu Nnadi in the starting lineup.
The Eagles were presented with the first real sight on goal as early as the second minute when Fago Salim turned swiftly to shoot a low shot that was saved by goalkeeper Sebastiano Italy's danger player, Tomasso Baldanzi wriggled his way inside the Nigerian box after collecting a good pass from a teammate but his shot was off target. Baldanzi's teammate Simone Pafundi was next to try his luck at goal but it did not trouble Kingsley Aniagboso in goal for Nigeria.
The Flying Eagles escaped the anguish of a penalty as a VAR checked in the 38th minute showed the ball hitting an Italian's arm before a supposed handling of the ball by Agbalaka. The on-field referee's decision was a free kick to Nigeria
Centre-back Frederick was yellow-carded for foul on Baldanzi towards the end of the first half while Aniagboso produced a smart save to deny the Italians to keep the score even before the break.
In the 61st minute, second half substitute Umeh Emmanuel found Salim Fago Lawal with a weighted short cross after a tussle with an opponent. The latter then headed into the net from the six yard box for the opener. Italy forward Daniele Montevago curled a beautiful shot from close range but the ball was deflected for corner although some of his teammates wanted a penalty claiming a handball in the box.
The Eagles had a fast break in a swift counter which produced a corner kick late on.
The Africans however made it 2-0 through Jude Sunday and they held on for the priceless win despite a late Montevago header that Aniagboso had to save on the second attempt.