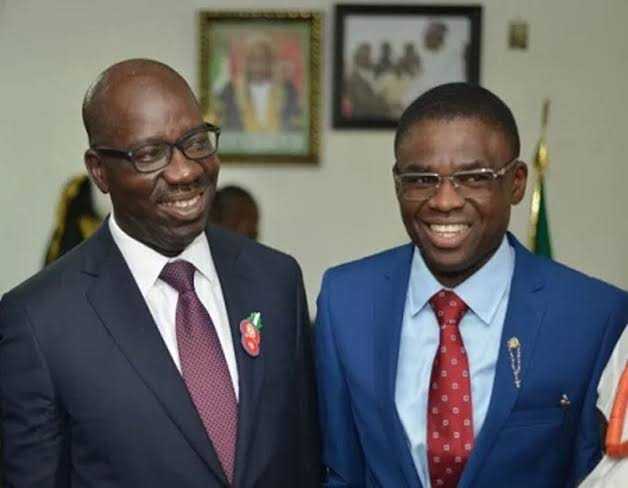 No Plot To Impeach Edo Dep Gov. Court Action A Preemptive Move Ahead Of His Defection To APC- Gov. Obaseki
Edo North leaders dissociate from Shaibu's governorship ambition
The Edo State Governor, Mr. Godwin Obaseki, yesterday, stated that there is no plan to impeach his deputy, Rt. Hon. Comrade Philip Shaibu.
The governor, however, noted that the move by Shaibu seeking a court order to stop his purported impeachment is preemptive ahead of his defection to the All Progressives Congress (APC).
This is as leaders of Edo North Senatorial District, the senatorial zone of the Edo State Deputy Governor, Philip Shaibu, distanced themselves from his governorship ambition, warning the deputy governor against fueling the crisis in the State.
The governor, while briefing journalists in Benin City during a visit by the Edo North leaders, said the deputy governor has been actively engaging with senior actors both at the national and state level of the APC, negotiating his way into their party, adding that he is at the verge of finalizing moves to defect to the APC.
He said, "Let me put it on record that I am not aware of any plot or any scheme to impeach the Deputy Governor Comrade Philip Shaibu. I have also checked and there was no such plan.
"So, the Court action taken, for me, is a thing of shock and disappointment. I am trying to reflect on the move made by somebody that I have given a broad latitude to do his work as deputy governor. So, for him to take this kind of action is shocking."
He noted, "It's clear what has happened in the last few weeks. It is a preemptive move for him to conclude what he has started. Those of you from Akoko-Edo can recall that when we were discussing the issue of your local government chairman and that of Owan, there was a lot of resistance from you on the candidates he wanted to impose on you. I listened to your entreaties and thought that what you were recommending was fair. How can he be recommending the son of an APC leader in that local government? You resisted and I saw reason and acceded to your request.
"The next day, I saw on social media that he was in Abuja robbing minds with the opposition party. I have heard for months now that he has been in closed consultation with friends from another party because he was not sure that you, the leaders of PDP, will give him the ticket as governor in 2024."
The governor noted, "I must State here that Philip Shaibu has never had the courtesy to discuss his ambition with me. The last time we spoke of my successor after the House of Assembly election, I did say that we should be patient and that our task is to try and finish well and conclude all our projects we started. It's only when we do this right that we will have the support of the people for my successor.
"I believe that this action by him is a preemptive move to get a court order, keep his ticket and move to another party. I think it's unfair for our party. We don't need this sort of crisis. I have been getting calls all over the world and it's rather sad that somebody who is part of an administration will do this to the administration because of his personal ambition."
He further stated, "I am not angry but naturally I should be disappointed. I understand what is going on. I thank you for your solidarity. We should not be distracted but consolidate and unite our party and bring all on board. As we start our local government campaigns tomorrow, I urge you to join me so that we can build a PDP that will continue to dominate the politics of Edo State as we must finish well so our people will continue to give us the mandate. Edo will continue to be great as our collective efforts will drive our future as no one man can be bigger than all of us."
Leader of the group and former Speaker of the Edo State House of Assembly (EDHA), Alhaji Kabiru Ajoto said, "We are here to amplify the voice of the majority of the people from the six local government areas in Edo North as we have all taken our position to stand with the Governor of Edo State in the ongoing crisis which is really uncalled for.
"What is happening now is really unfortunate as the people of Edo North have met severally over a week thinking of what to do over the face-off between Governor Obaseki and Shaibu. We sent a powerful delegation to the deputy Governor to make peace with his boss but were surprised that he turned it down. We reached out to him but he turned the offer for peace down.
"Taking the governor to Court is most unfortunate and we can't keep quiet but to speak out over the development. The Deputy Governor decided not to work closely with Mr. Governor because of personal ambition to become governor of Edo State."