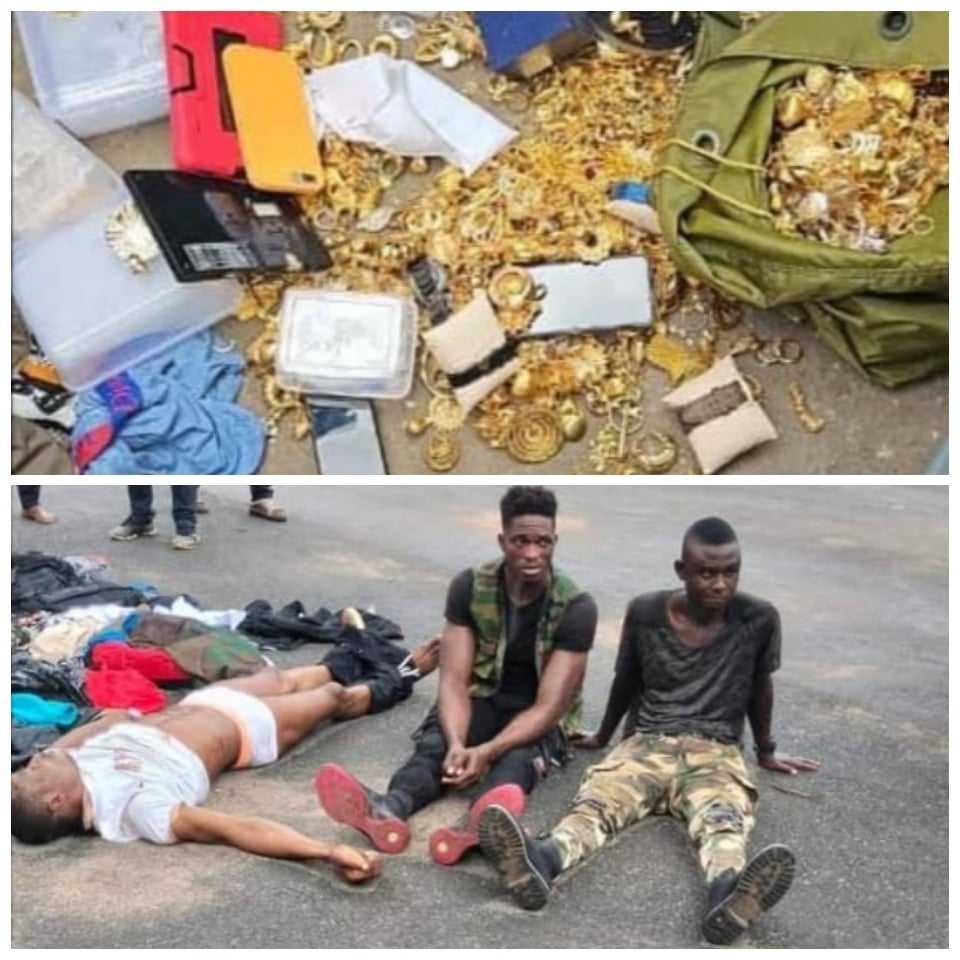 One Shot Dead, 2 Arrested As Gallant Policeman Foils Robbery Attack At A Gold Shop By 5Men Gang Decked In Military Camouflages
The police in Imo State on Saturday foiled a robbery attack in the Ikenegbu area of Owerri, the Imo State capital.
The armed robbers stormed a gold shop known as Goldwise Wisdom Gold stores located at Intels stores ikenegbu opposite kilimanjaro ikenegbu Owerri, the state capital.
Eyewitnesses told our correspondent that on arrival the criminals who operated in a white Hilux vehicle wore military uniforms and were heavily armed.
On arrival, they moved into the shop and stole golden items worth millions of Naira and were said to be on their way out before a policeman whom accompanied an unidentified personality to take his launch at a nearby eatery suspected foul play and opened fire on them.
The five man gang immediately returned the fire and started shooting indiscriminately causing people to immediately closed shops and ran for their lives.
The policeman's bullet caught the driver of the gang and he died instantly.
His gang members quickly disembarked from the Hilux and started running while shooting in the air, consistently.
One of the eyewitnesses said " the policeman suspected foul play and quickly opened fire on them. He killed the driver of the gang and his four other members jumped out and started shooting. Police reinforcement from the command headquarters quickly arrived. Two were caught while to others escaped."
The golden items they stole were immediately recovered from them.
Another eyewitness told our correspondent that he was grateful to God that no innocent soul was killed in the incident.
He said "they were in army camouflage.
As they stormed the plaza in a Hilux van, residents and traders around that vicinity taught they were police men or military men but to their utmost dismay, they were men of the underworld. As they were busy harvesting the gold from the shelves, a policeman attached to someone who came to buy one item or the other noticed that it was a robbery attack and fired at the driver and gunned him down, thereby dislodging the movement of the robbers. Therefore, they took to their heels by foot."
Parading the dead suspect and the two others caught alive at the command headquarters, the police spokesman in the state, Henry Okoye, said that the state Commissioner of police, Muhammed Berde, was grateful to the operatives who foiled the attack and caught the suspects.
Okoye gave the names of the suspects as Peter Gaura, 27, from Kogi State, whom he described as a dismissed solider and Promise Joshua, 25, from Delta State.
Joshua when interviewed said that he works as a bouncer at a popular hotel newly opened in Owerri