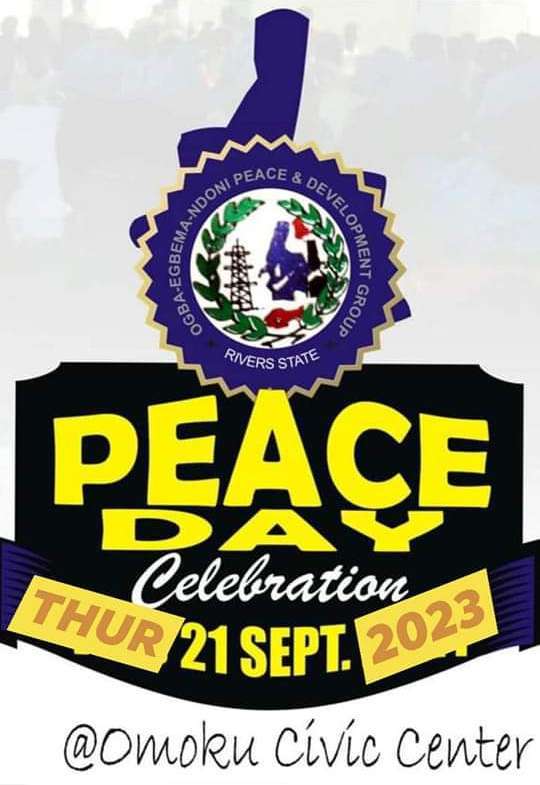 ONELGA Celebrate 5 Years Of Enjoying Peace In All Parts Of The LGA (See Leaflets Inside For Details)
AFTER 4 YEARS OF UNREST, WHERE HUNDREDS OF ONELGANS PERISHED IN THE HANDS OF GUNMEN & POLITICAL UNREST,
IT IS 5 YEARS NOW, WE ARE CELEBRATING 5TH ANNIVERSARY OF THE RESTORATION OF PEACE IN ALL PARTS OF ONELGA.
THE EVENT FEATURES: PRAYERS, ARTS & CULTURAL PERFORMANCES, LECTURES ON SUSTAINING OF PEACE AND HONOURING OF INDIVIDUALS & ORGANIZATIONS WHO ARE WORKING FOR THE PEACE, UNITY & DEVELOPMENT OF ONELGA.
THE DATE: THURSDAY 21ST SEPTEMBER 2023.
TIME: 10AM
VENUE: OMOKU CIVIC CENTER.
THIS EVENT IS FACILITATED BY: ONELGA CHRISTIAN COMMUNITY & AMBASSADOR BRIGHT ABALI PEACE FOUNDATION.