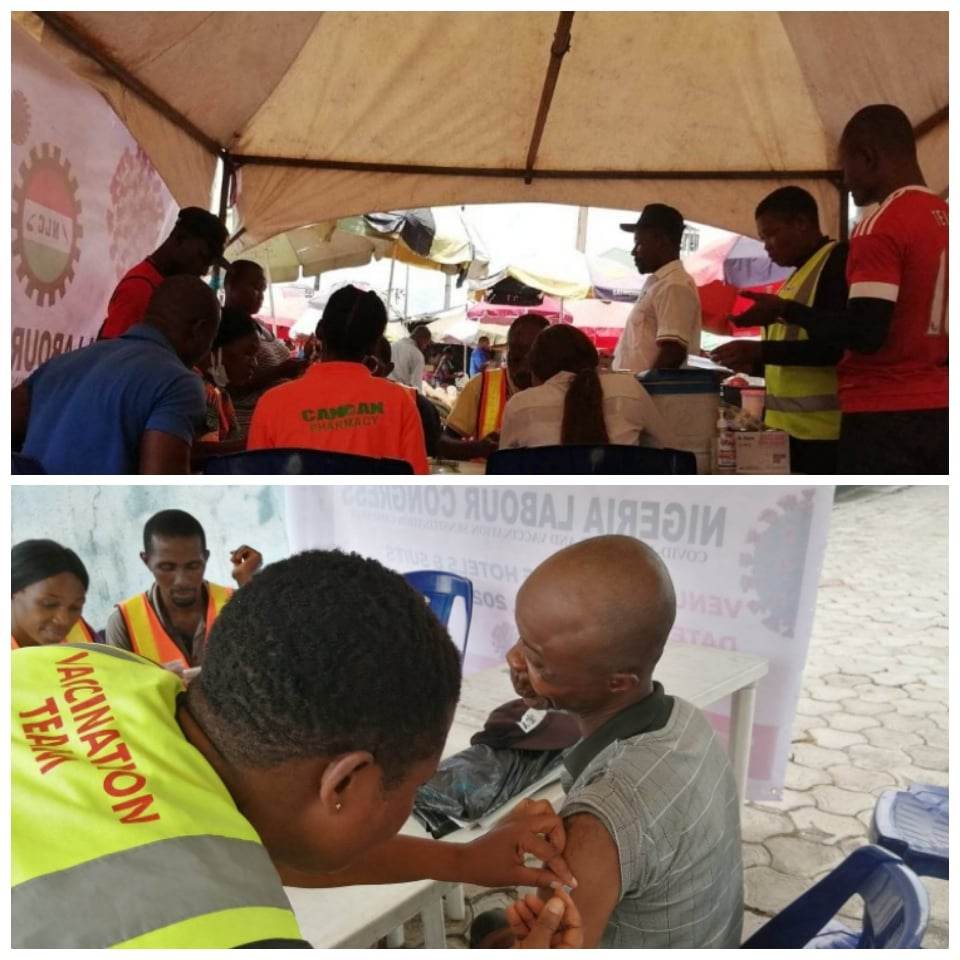 Over 200 Persons Benefits From NLC Free Testing, Covid-19 Vaccination At Sangana Market In Rivers
Over Two hundred persons have benefitted from the two days sensitization and free Covid-19 testing, vaccination in Rivers state CURTESY of Nigeria Labour Congress NLC and its partners
The  Rivers State NLC in collaboration with NCDC, NPHCDA and various stakeholders in the health sectors in keeping up with Sensitization and Social Mobilization for Uptake of Covid-19 Testing and Vaccination to ensure workers readiness for Emergency Situations took the vaccination to Civils servants door steps and traders in the state to get Vaccinated.
Speaking Earlier On Tuesday 23RD MAY 2023 and flagging off the sensitization and mobilization event to get the workers in the Covid-19 high burdened states and the masses in other parts of Nigeria to go for testing and vaccination against the Covid-19 disease. The state chairman of NLC Alex Agwunwor said the world of work has been greatly impacted by the Covid-19 pandemic since it was discovered in China in 2019. The pandemic has threatened and caused economic and social disruptions for businesses and individuals around the world. Work places were closed down, with many workers thrown out of employment because the employers could not maintain the pre-Covid-19 pay and incentives for them.
Also speaking at the flag of the sensitization program to motivate selected Peer influencers to carry out the duties of using their knowledge to shore up uptake of covid-19 testing and vaccination, The state coordinator and state secretary of NLC Comrade Mathew  said the project was intended for implementation in the 12 high burdened Covid-19 states in Nigeria, which are Lagos, Rivers, Kaduna, Plateau, Oyo, Edo, Ogun, Delta, Ondo, Kano, Kwara and the FCT, which is meant to mobilize and organize the workforce in preparedness for recruitment of the broader working people to embrace and keep pace with what the trade unions are doing to safeguard the interests of the working people and the downtrodden masses.
He said the programme focuses on listening to build workplace community to build trust and respect among the workers and the masses to take responsibility of ownership of their fate to fight for what is right in the workplace and in the society.
In his remarks Representative of State Coordinator Of  National Primary Health Care Development Board. NPHCDB Edu Ekelechukwu urge the media to help in debunking some misconception in the public domain against the benefits of covid -19. he said Rivers state still at 14% of vaccinated population ratio.  he said at the national level we follow daily data submission in collating the data , He noted that apart from Ondo that is the Least. rivers state is second down the ladder of  covid-19 burden state. while noting that a lot of work needs to be done by NLC Member to get the public to get vaccinated by getting the media to debunk the misconception for the good of the masses
Our correspondent Anita Ogona who monitored the 3 days event reports that  after the first day event  which kicked off with a Press Briefing on Covid-19 by the NLC Sensitization and Social Mobilization for Uptake of Covid-19 Testing and Vaccination ceremony, The council on the second day took the vaccination mobilization to NUPENG Office in Dline on 2th -05- 2023  recorded  the following data of number of persons vaccinated
MALE 26
FEMALE  13
TOTAL 39
On 25TH MAY 2023 At Sangana Market by Uyo street in Mile recorded huge success  with
66 MALE
71 FEMALE
Total 137 persons