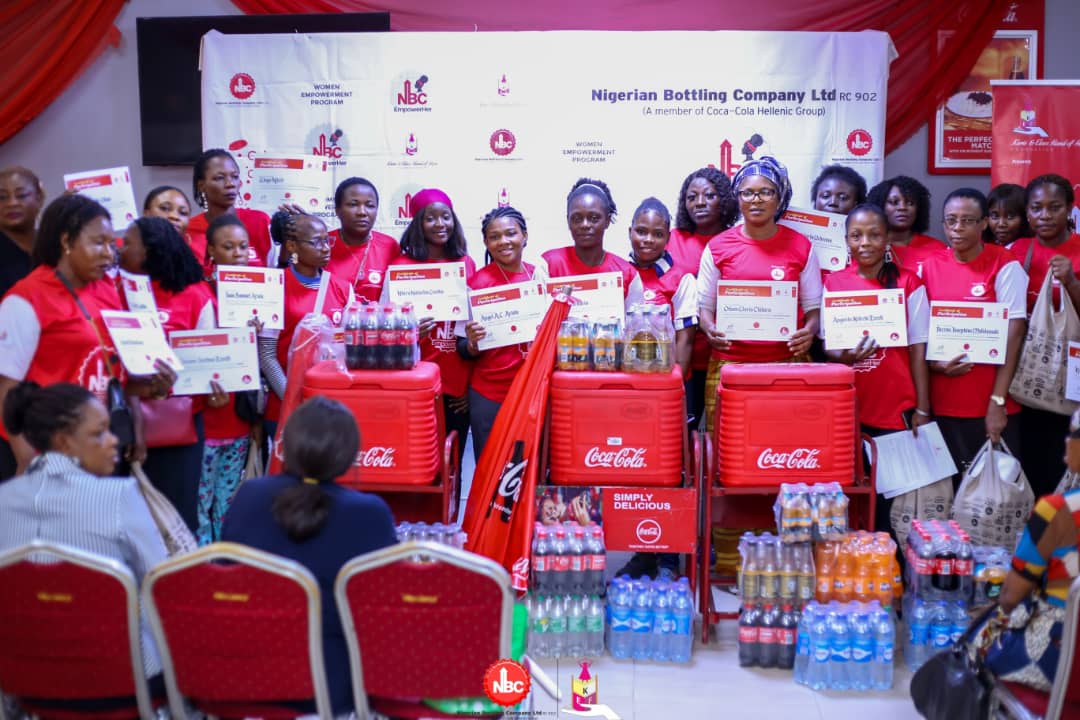 Over 200 Women In Oginigba Community Benefits From NBC EmpowerHer Program
As part of activities to mark her 70th Anniversary celebration, The Nigerian bottling company NBC has sponsored the training of over 200  persons carried out by Karis and Eleos Foundation focused on women in Oginigba community who were trained for a week.
Speaking to our correspondents on the sidelines of award, issuing of certificate of completion and starter packs to the successful recipients, the Executive Director of DBI Foundation (David Bassey Ikpeme Foundation for Orphans and vulnerable Children) Mrs.Koko Crusto applauded the trainees for theirs reliance and willingness to learn by grabbing the opportunity to impact on them basic skills required to make them useful to themselves and also feed their families
She said The training which lasted for five days was intense, and was judged by the Instructors on attendance, Teachers assessment through Exams after the training undergone by the trainees to be awarded the life changing skills. While noting that the five 5 Core areas of the training was anchored on Baking, Cosmetology Make-up. shoes Making and Retail selling options for Coca-cola stocks
The closing ceremony which was graced with dignitaries  as a special guest at event The Paramount Ruler of Ogingba Community HRH Eze GB Odum (represented) hailed the organizers for bringing such high powered training to women of Ogingba Community. He said such basic skills will enable the beneficiaries to become self sufficient and also fend for their families if properly utilized and Applied
From L-R Mr. Chike Ogbona PH plant manager, Chief Sunny Ovudah Director for Adult and Non-formal Education, Barr. Mrs. Ukel Oyaghiri Commissioner for Women Affairs. Mrs. Bukola Bamiduro. Executive Director Karis and Eleos Foundation. High Chief Dr. Stanley Dike. (Representative of the Eze) Dr. Brown Commissioner for Commerce and Industry. Mrs. Atosemi Eson Teetito. Permanent Secretary Ministry of Women Affairs. Mrs Koko Bassey Crusto. Executive Director David Ikpeme Foundation and Homes
For part. The commissioner for women affairs Mrs. Ukel Oyagiri urged the women not to bury the skills by deploying it their areas of interest to generate income and also multiple their capital, She said gone are the days when women sit back and expect money from men, but that Rivers women are also going above board by contributing meaningful to family growths in Financial inputs morals and values.
For His part, The commissioner for commerce and industry represented by a director in the ministry Elechi Brown thanked extolled the women to look beyond their immediate needs and put efforts in multiplying what has been given to them as capital. He said the ministry is open for collaboration on how to boost businesses and also encourage exporting ideas. He thanked the Nigerian bottling company NBC for providing satisfactory customer service to the good people of the State and the country in general.
Our correspondents Anita Ogona reports that the guests speaker who spoke on the importance of adult education to Informal Sector said non formal education plays an important role in alliviating poverty in the state, He urged the 25 beneficiaries to àlso use the skills to create more jobs by expanding their trades in no distant time. He said "with empowerment the women will be able to contribute their quota to the State development" as the Informal Sector contribute meaningfully to The state and country GDP in general