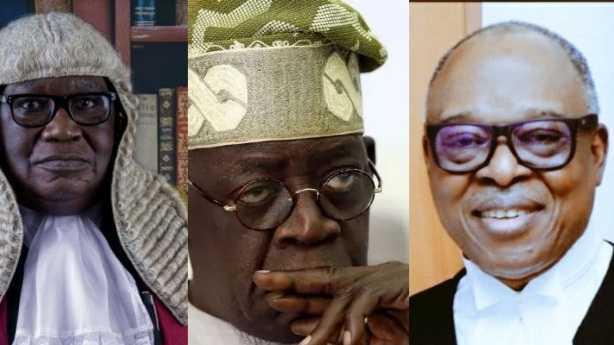 PDP Lawyer Fires Back At Justice Tsammani – "There's No Forgiveness For Crime, Tinubu Must Be Disqualified, And Heaven Will Not Fall"
PEPT LEGAL TEAM BIG DRAMA – 01/08/2023 With Justice Tsammani and PDP SAN Uche going at each other
Tsammani: Chief Uche, why did. You file a reply. You are not supposed to file a reply.
You are a petitioner and entitled to file final address presenting your case and not file a reply to their own address
You don't have the right to reply.
PDP: You said we can file this reply on 5th July
Tsammani: Learned silk it's a matter of common sense
Tsammani: You filed 160 pages
Your final written address is 40 pages
Another one is 42 pages, and another final address here again is 120 pages
PDP: They are different cases to different final address
Tsammani: Then you file one written address
PDP: No my lord it has never been done like that, they are different respondents and they all filed on different days on different issues, why would you say I should file one address, I don't agree to that.
"The whole court is murmuring. Hmmm, what sort of technicality is this"
Tsammani: So if you have 10 respondents, you will file 10 final addresses
PDP: I will file addresses to all of them because they filed on different dates and different issues, so I have to address them all according
The proper thing we have always done is respond to all of them.
Tsammani: Chief Uche, I have pointed out to you what I want, and that is it
PDP: My lords, they filed separately
Justice Bolaji: So you filed 3 replies, I have not seen where a plaintiff would file a reply to the defendants reply.
PDP: My lord, we were definite on what we wanted to do abinitio, and we deliberately replied to all of them separately because they boxed us from different angles, so we had to box them each.
Tsammani: So you have 3 different ones here and also a letter.
SAN Uche: Oh, okay, take out the letter and leave our 3 addresses
Justice Bello: Learned silk, the law states final address and not final addresses you should have responded to it together.
Justice Tsammani: So you are saying the letter can go.
SAN Uche: Yes, my lord, that one is just an explanation, but the 3 others must stay. It is only right that we address each other finally.
Justice Tsammani: Okay, I will allow it, because this matter is critical and the whole nation is attentive and I don't want people to leave here and start saying another thing because when we leave here now don't be surprised what we would read out there, you know all these our young ones.
APC Olanipekun: A citizenship by birth can not be disqualified, and so the issue of the Guinean passport should not be considered.
For the university certificate, my lord, there's no documentary or oral testimony from Chicago State University disclaiming the 2nd respondent (Tinubu) certificate of studentship.
My lordship, we want you to throw this petition to as far as your hands can carry because it holds no jurisdiction or facts
APC only speaks objection and dismiss. If it's to bring witness now, you won't hear their voice again.
SAN Olanipekun: My lord, there is no precedence on presidential election cancellation
SAN Uche: My learned colleague, on the other side, said the criminal offence is timely and INEC the time has passed then the offence has passed. He said it here that the constitution forgives.
Well, my lord, I am here to say that time does not run against crime.
"The whole courtroom shouts Yeeessss"
Justice Tsammani: Uche, we should not mislead the public. This thing is coming from the mouth of a senior advocate.
Some people already have their headlines, and that's not right.
It's a constitutional issue. It's written in the constitution, so it's not any time that does not run against crime. It's just the constitution. Let's not mislead the public. The constitution states how long any crime can stand.
"Everyone is steering at Justice Tsammani"
SAN Uche: Well, my lord, at least he admitted that the 2nd respondent committed a crime. He said there's forgiveness in the constitution, and even when there is forgiveness let's not forget that there's also a punishment for sin.
SAN Uche: Yes, there is punishment for sin
Justice Tsammani: Uche you're a Christian. Are you not a Christian, Christians forgive, and even Jesus said, "Go and sin no more."
SAN Uche: That was Jesus Christ. Oh, me I'm not Jesus
"The whole courtroom is laughing"
SAN Uche: Then on Precedence, my lord, my learned colleague said there is no precedence of annulling presidential election in Nigeria.
SAN Olanipekun now stands up angrily: I take objection to that. Don't misquote me, I am on my feet right now. Uche, so sit down.
SAN Uche: But I am still talking, and you're using out of my time.
SAN Olanipekun: I am on my feet. I object to that, I allowed you talk and kept my cool since even when you're mentioning things that is not in your written address, I kept my cool, I didn't talk, please don't make me talk.
I object to that statement you're making now. Don't do that.
SAN Uche: Well, I heard you clearly, and we all did. You said precedence does not exist in annulment of the presidential election.
My lord, if I may go on, that Precedence that they said has never happened can be created today and be done in this case TODAY
"The whole courtroom is shouting Yes"
Justice Tsammani interrupts with smiles on his face: "But Judgement is not today na
"The whole courtroom is almost on the floor with laughter"
SAN Uche: My lord, as I end this case, let that precedence be today, HEAVEN WILL NOT FALL
Justice Tsammani: So we will inform you guys on the date of judgment. It was great listening to you all.
Thank you for coming.
1. Everyone in court all agreed that Bola Tinubu was a criminal but APC legal team said the law has timeline on the crime which means he has been forgiven ????
2 . Tinubu , apc and Inec's legal team all agreed that the February 25 election was fraudulent but in as much as there's no precedent of presidential annulment after a president has been sworn in , in the past, we can move on ????
3. Even though the word AND in the 25% is still under test , and after conceding with assumptions that tinubu did not meet up the requirements to be declared winner , let the rerun be between Obi and Atiku and not ATIKU , tinubu and Obi . ????
4 . All the respondents all agreed that there was a forfeiture but it was a civil forfeiture and tinubu already paid for his crime in fine by forfeiting $460,000 , the court must not ask tinubu to pay further ????????‍♂️
5 . Tinubu's legal team agreed to dual citizenship but claimed once your passport is expired , then you are no more a citizen of such country . Hilarious ????
We are getting there and the spot light is now on the 5 judges not to use precedent to handle a case as huge as this, because change must begin now .
Justice must never be denied just because it has never happened before . Heaven will not fall ????
Judiciary is massively on trial